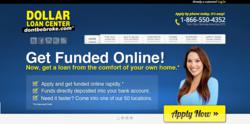 We are our clients' financial partners and take that role very seriously.
Las Vegas, Nevada (PRWEB) March 27, 2012
Dollar Loan Center has launched a new website with increased functionality and even more convenient options than before. The site, located at http://www.dontbebroke.com, now offers customers the ability to complete an entire loan transaction online including the application and transfer of funds directly into a checking account or prepaid debit card.
"This is one more step in our mission to provide the easiest and most convenient options for short term loans in Nevada, Utah and South Dakota," said Chuck Brennan, CEO of Dollar Loan Center. "Now you can complete a loan application on our website, and if you are approved the funds will be transferred to either your checking account or a prepaid Dollar Loan Center debit card."
Brennan said the new site was designed to give customers convenient options for applying for and managing their short term loans. "Many of our customers enjoy visiting our stores and having a personal connection with Dollar Loan Center staff. Others prefer to complete their entire transactions securely online, from applying and funding to making their payments. All aspects can be completed online from the comfort of your home, office or smart phone."
The website now includes more information on Dollar Loan Center as well, including its current social media contests and an easy-to-navigate store locator. The site is also home to Dollar Loan Center's blog, which includes the company's many charitable activities and tips on money management.
"We are our clients' financial partners and take that role very seriously," said Brennan. "The new Dollar Loan Center web site offers information on a variety of financial topics, as well as helps manage your loan and payments."
Dollar Loan Center is the largest provider of short term credit Services in South Dakota and Nevada with 50 Dollar Loan Center locations throughout the two states and Utah. The philanthropic stores support dozens of organizations including Las Vegas' favorite charity, Opportunity Village, and Alice and Sheryl Cooper's Solid Rock Foundation, among many others. Brennan himself is one of Nevada's most recognized philanthropists, giving nearly $500,000 annually to charities across the country.
In 2007, Entrepreneur Magazine listed the company among its "Hot 500" Fastest Growing Businesses and Entrepreneurs." For more information, visit http://www.dontbebroke.com.