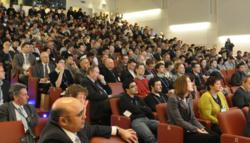 Many of the toughest issues facing optical and photonics technologies today have been selected as the basis of programmes at Photonics Europe.
Cardiff, UK (PRWEB) March 26, 2012
A presentation on the new European Commission framework programme Horizon 2020 will lead off talks at the upcoming SPIE Photonics Europe international congress on materials, nanotechnology, biophotonics, semiconductors, lasers, multimedia, and imaging. Offering more than 1,400 technical presentations, a free-admission exhibition, Photonics Innovation Village competition, and numerous networking events, the meeting will be held at the Square Brussels Meeting Centre 16-19 April.
"Photonics Europe brings together different disciplines, technologies, and perspectives from across Europe and around the world" said Francis Berghmans (Vrije Universiteit Brussel). "Many of the toughest issues facing optical and photonics technologies today have been selected as the basis of its programmes. These current research issues will drive the development of new products for years to come."
Berghmans is one of four General Chairs of the event, along with Ronan Burgess (European Commission), Jürgen Popp (Institute of Photonic Technology Jena), and Peter Hartmann (SCHOTT AG). Hugo Thienpont (Vrije Universiteit Brussel) is Honorary Chair.
Technical presentations are organised into 18 conferences on topics in optics, photonics, and imaging such as

Metamaterials
Photonic crystal materials and devices
Biophotonics
Nanophotonics
Silicon photonics and photonic integrated circuits
Lasers and amplifier technologies
Optical sensing and detection
Organic photonics.
Hot topics speakers will provide overviews of important developments in photonics across multiple disciplines. Presenters are:

Thierry Van der Pyl, EC Information Society and Media Directorate, on the role photonics research and innovation will play in the new Horizon 2020 funding programme
John Dudley, Université de Franche-Comté, on breakthroughs in nonlinear optics
Kyriacos Kalli, Nanophotonics Research Laboratory at Cyprus University of Technology, on next-generation fibre lasers
Andreas Tünnermann, Friedrich-Schiller-Universität Jena, Institute of Applied Physics, and Fraunhofer Institute for Applied Optics and Precision Engineering, on advances in high-power fibre laser systems
Demetri Psaltis, École Polytechnique Fédérale de Lausanne, on optofluidics for solar energy
Lihong Wang, Washington University in St. Louis, on photoacoustic tomography
Finlay Colville, Solarbuzz, on manufacturing of silicon solar cells and thin-film panels
Berit Wessler, OSRAM, on solid state lighting.
Opportunities for industry
An industry programme will provide an overview of opportunities in photonics markets as well as a report from the recently formed ASPICE (Action to Support Photonic Innovation Clusters in Europe), organised to enhance collaboration and success among national clusters and platforms across Europe.
Industry-focused workshops include:

Integrated approaches to study of historical glass, sponsored by the New Archaeological Research Network for Integrating Approaches to Ancient Material Studies (NARNIA)
Properties of optical glass and special optical materials, presented by SCHOTT with Peter Hartmann as lecturer
Plasmonics in the Infrared workshop, sponsored by the FP7 project PLAISIR
Advanced opto-electronic simulation, from devices to photonic integrated circuits, presented by Lovalite and Lumerical.
Preregistration ― free to technical conference attendees ― is required for the industry workshops.
Leading photonics companies will showcase their latest equipment and systems in the three-day exhibition featuring optical components, lasers, fibre optics, detectors, sensors, and cameras. Conference attendees may visit the exhibition Monday through Wednesday, and exhibition-only visitors may attend on Tuesday 17 April.
A highlight of the exhibition will be the fifth Photonics Innovation Village ―a look at creative new photonics-based products, the young innovators who are developing them, and research programmes encouraging the transfer of optics and photonics research into products. Organised by B-PHOT, the Brussels Photonics Team at Vrije Universiteit Brussel, the competition this year includes 16 products from throughout Europe. Awards sponsored by Brussels-Capital Region will be given for the top products.
Networking and more
Activities designed to provide students with networking opportunities and to develop vital career skills include a student chapter leadership workshop, student chapter exhibition, networking lunch with experts, and professional development program.
Among other networking opportunities at Photonics Europe are the SPIE Fellows luncheon, a Women in Optics networking luncheon, evening poster receptions, and a welcome reception at the Royal Museum of Art and History.
For more on SPIE Photonics Europe visit http://spie.org/photonics-europe.xml.
About SPIE
SPIE is the international society for optics and photonics, a not-for-profit organization founded in 1955 to advance light-based technologies. The Society serves nearly 225,000 constituents from approximately 150 countries, offering conferences, continuing education, books, journals, and a digital library in support of interdisciplinary information exchange, professional growth, and patent precedent. SPIE provided over $2.5 million in support of education and outreach programs in 2011.