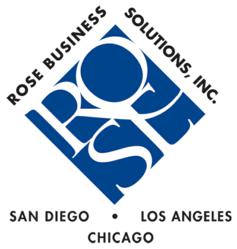 We are pleased to announce Rose Business Solutions, Inc. as Microsoft US ERP Cloud Partner of the Year for delivering continued exceptional value to customers seeking cloud-based ERP solutions," said Kati Hvidtfeldt, senior director US ERP Cloud Microsoft
San Diego, CA (PRWEB) March 27, 2012
Today, Rose Business Solutions Inc., announced it has been recognized as the 2012 Microsoft Dynamics ERP (Enterprise Resource Planning) Cloud Partner of the Year. The award was presented to Rose Business Solutions at the 2012 Microsoft Convergence Conference in Houston, TX last week.
"We are honored to have Microsoft recognize our organization as the Microsoft Dynamics ERP Cloud Partner of the Year FY 2012. Our organization has worked very hard to deliver a true cloud solution that is on-demand, and can be implemented quickly and efficiently through the cloud. Our cloud implementations reach multiple countries and a variety of industries without either the consultants or the clients ever leaving their offices to implement," said K. Linda Rose, president of Rose Business Solutions. "Through our hosting services to partners, and our myGPcloud offering, we are the first partner to offer the only true on-demand Microsoft Dynamics GP solution with which users can procure their own instance and get up and running in less than five minutes with no upfront fees or annual commitments. The number of new subscribers each month has grown dramatically over the last year and proves that companies are confidently migrating to the cloud in increasing numbers."
Awards were presented by Microsoft executives in multiple categories and represented partners who are able to incorporate repeatability and volume in their sales efforts across the Microsoft Dynamics ERP and CRM product lines. The Microsoft Dynamics ERP Cloud Partner of the Year Award was presented to Rose Business Solutions for building a successful cloud practice around volume and repeatability in delivering ERP Cloud and consulting services. Rose Business Solutions was able to obtain these results by selling and delivering Microsoft Dynamics ERP through a partner-hosted offering with RoseASP, a wholy owned entity that delivers ERP and CRM on demand in the cloud by packaging intellectual property with products and services.
"We are pleased to announce Rose Business Solutions, Inc. as Microsoft US ERP Cloud Partner of the Year for delivering continued exceptional value to customers seeking cloud-based ERP solutions," said Kati Hvidtfeldt, senior director for the US ERP Cloud business at Microsoft. "Rose Business Solutions, Inc. has developed, branded and marketed customer-centric packaged solutions with rapid provisioning and deployment. Rose Business Solutions with MyGPcloud and RoseASP delivers cloud with choice."
Rose Business Solutions is a nationally recognized technology provider, maintains a Microsoft Gold Enterprise Resource Planning Competency within the Microsoft Partner Network, and is one of the Southern California region's largest providers of Microsoft Dynamics solutions. Through its RoseASP division, it is the premier provider of hosted Microsoft Dynamics solutions on-line, including its newest on-demand solution, myGPcloud.
About Rose Business Solutions
Founded in 1991, Rose Business Solutions is a leading business systems and implementation group in Southern California. It has assisted hundreds of small and mid-sized companies globally to implement Microsoft Dynamics applications either in the cloud or on-premise to become more productive, and profitable through the use of technology. With a highly skilled and experienced staff of certified accountants and industry professionals, Rose Business Solutions distinguishes itself from other value-added resellers on its high commitment to customer service. In 2000, it founded RoseASP, a division dedicated to hosting financial, accounting and customer relationship management solutions and related modules for the company's clients and partners. For more information about Rose Business Solutions, visit http://www.rosebizinc.com.
For additional information:
Melissa Sanders, Rose Business Solutions, 858-794-9401, melissa.sanders@rosebizinc.com
Product or service names mentioned herein may be the trademarks of their respective owners