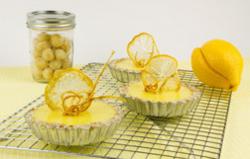 We've developed these new career- focused packages to directly support eight specific career tracks in the green economy.
Mendocino Coast, CA (PRWEB) March 28, 2012
Living Light Culinary Institute has created eight new packages to take students on a fast-track trajectory to a raw food career in eight categories: private chef, restaurant chef or owner, raw food instructor, nutrition educator, recipe book author or menu developer, spa or retreat chef or consultant, raw food caterer, and gourmet raw vegan pastry chef. Founder and Director Cherie Soria, author of The Raw Food Revolution Diet, is excited that Living Light Culinary Institute graduates have created "green" raw food careers in the United States and in countries as diverse as Singapore, Iceland, Japan, Mexico, and Saudi Arabia, as well as Europe and Latin America. As a recent recipient of The Mendocino Coast Chamber of Commerce Sustainable Quality Award, Living Light International takes sustainability and the green economy seriously.
"We've seen the success rates in people who graduate from our school and start new careers all over the world." says Soria. "In today's economy, people need to proactively create their own careers, and not wait around to be hired by someone else. We've developed these new career- focused packages to directly support eight specific raw food career tracks in the green economy."
Prospective students choose from eight individual career-focused packages: an Associate Chef Package, an Instructor-Focused Package, a Pastry-Focused Package, a Gourmet Chef Package, a Gourmet Plus Package, a Gourmet Completion Package (for returning students), a Platinum Package, or a Nutrition Educator Package, which support the career trajectories for the eight top raw food career choices:
1. Private Chef
As more and more people choose a healthy lifestyle, the demand for private raw food chefs continues to grow. In-home chefs, boxed meal delivery chefs and traveling personal chefs are among the opportunities available in the field.
2. Restaurant Chef or Owner
Raw food cafés, juice bars and raw food restaurants as well as other types of restaurants are seeking gourmet raw food recipes for menus across the country and around the world.
3. Raw Food Instructor
Teaching the culinary aspects of raw foods is one of the top career categories, requiring skills in public speaking, business management, marketing, social networking, time management and website development.
4. Recipe Book Author/Menu Developer
Recipe books are one of the top selling categories in publishing today. Other venues include online recipe e-books, magazines and publications both online and in print, and recipe development for corporations and restaurants.
5. Spa or Retreat Chef Consultant
Work in exotic locations in the niche market of raw vegan foods. Options include spas and retreats in places like Bali, Hawaii, Trinidad, Singapore, New Zealand and Australia.
6. Raw Food Caterer
Raw food chefs who learn skills like bidding for jobs, food costing, preparing raw vegan food in a standard kitchen, and catering meals for 10-100+ are in demand at the community level and around the world.
7. Raw Pastry Chef
Making sophisticated yet healthful pastries and desserts is a unique talent readily utilized in a variety of settings – from restaurants and hotels to vegan pastry shops and catered events.
8. Nutrition Educator
Teaching the health benefits of a raw vegan diet as a chef instructor or nutrition educator is a vital skill in today's world. With type II diabetes, childhood obesity, and other reversible health challenges in the news, this job category is essential in today's world.
"Our school is set up so that students can create career options for themselves, and feel good about the contribution they are making to the health of their families, communities and the world," says Soria. "We want our students to succeed, and we've created these new career-oriented packages to make sure that they have the tools they need."
Course packages include recipe development, gourmet spa fusion cuisine, catering, and pastry arts. Food styling for photography is offered throughout the year to help students create professional food shots for their brochures, websites and recipe books, and a basic knife skills class is included at the beginning of the associate chef and instructor certification series. The science of raw food nutrition certification series includes CDs of turnkey presentations so that graduates are able to start teaching immediately after graduation. Living Light Culinary Institute is in the business of educating students from around the world, and providing ongoing support to their graduates in creating viable careers in an ever-changing global marketplace.
Living Light International has four eco-friendly businesses on the Mendocino coast of Northern California: Living Light Culinary Arts Institute, Living Light Café, Living Light Marketplace, and Living Light Inn. Visit RawFoodChef.com for more information.