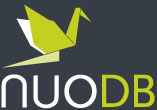 I am pleased that NuoDB is open sourcing its client APIs and is encouraging a community-centric approach to driver development for their innovative cloud database.

Rus V. Brushkoff, CEO, SfinxSoft
Cambridge, MA (PRWEB) March 27, 2012
NuoDB, the leader in elastically scalable database software, announced today in conjunction with the launch of Beta 6 an Open Source initiative on Github aimed at advancing the development of community-supported client drivers for the NuoDB cloud database.
Effective immediately, Web and application developers can begin contributing to NuoDB database driver developments on Github under the terms of conditions of the company's Contributor License Agreement (CLA), which is designed to protect the intellectual property rights of contributors as well as the rights of NuoDB and its users.
[See companion press release announcing NuoDB Public Beta launch.]
"Our patent-pending database is 100% SQL compliant, guarantees ACID transactions, and scales out and in elastically and effortlessly on decentralized cloud-based computing resources," said Barry Morris, CEO of NuoDB. "By open sourcing and sharing NuoDB APIs and client drivers on Github, I am confident that we can rapidly address a wide range of needs of Web and application developers, who are looking to develop scalable cloud database applications."
As part of this initiative, NuoDB has made its JDBC client APIs as well as client drivers for PHP, node.js, Hibernate, and JRuby publicly available. To access these free NuoDB drivers and become an active contributor, please visit the NuoDB resources at http://www.github.com/nuodb.
"I am pleased that NuoDB is open sourcing its client APIs and is encouraging a community-centric approach to driver development for their innovative cloud database," commented Rus V. Brushkoff, CEO, SfinxSoft. "As an early adopter of this latest NuoDB initiative, I have already contributed to the development of the PHP driver for NuoDB."
About NuoDB
NuoDB, Inc. is a Cambridge, MA based startup that provides the industry's first and only elastically scalable database. Unlike every other database, NuoDB is architected to scale effortlessly on the cloud without compromising any of the features or guarantees of relational databases.
Founded in 2011 by industry-renowned database architect and innovator Jim Starkey and enterprise software CEO Barry Morris, the NuoDB database is currently in Beta and will become generally available in Q2 2012. For more information, visit us at http://www.nuodb.com.