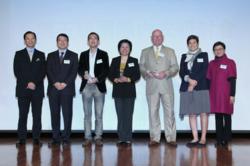 (PRWEB) March 27, 2012
Organized by the Institute of Textiles and Clothing (ITC) of The Hong Kong Polytechnic University (PolyU), the Fifth International Symposium of Intimate Apparel was held 26 March on the PolyU campus to promote the exchange of the latest knowledge and development of intimate apparel among academics and industrialists. The event was supported by the world's leading lingerie and beachwear trade show organizer Eurovet and the Hong Kong Intimate Apparel Industries' Association Ltd.
Themed "Next Generation of Eco-friendly Lingerie Fashion," this year's symposium brought together some 150 local and overseas lingerie experts to share their insights and experiences. Innovations in design and technology are important for the new development of sustainable fashion for the benefit of the global lingerie market. This symposium aimed at enhancing the industry's competitive advantage on product innovation of sustainable fashion.
The symposium was officially opened by Professor John Xin, Acting Head and Professor of ITC, and Mr Kenneth Wong, Chairman of Hong Kong Intimate Apparel Industries' Association and Director – Sales & Marketing of Top Form Brassiere Mfg. Co. Ltd.
Distinguished speakers have been invited to share their ideas and experience on future lingerie development. Mr Paul Heron, Product Innovation and Technical Director Intimate Apparel of jcpenney, delivered a talk on "The Green Market - Today and Tomorrow"; Mr Anderson Lee, Business Director of Hong Kong Non-Woven Fabric Industrial Co., Ltd. and Business Director of H.K. Bonding Fabric Co., Ltd., talked about "Eco-friendly Raw Materials for the Future"; and Professor Tao Xiao-ming, Chair Professor of Textile Technology of ITC, spoke on "Smart Textiles for Intimate Apparel."
Established with strong industrial support in 2005, the Ace Style Institute of Intimate Apparel of ITC is the first lingerie institute in the Asia Pacific. Over the years, the Institute's research has reaped fruitful results and gained international reputation. Its graduates from the BA (Hons) programme in Intimate Apparel are sought after by the industry. Starting from 2008/09 academic year, the programme has been converted to a government-funded articulation programme. This milestone not only signifies the quality of the programme, but also charts a new course in the study of lingerie at tertiary level.
Detailed information of the Symposium is available at: http://www.itc.polyu.edu.hk/asiia/symposium
Press contact: Dr Winnie Yu
Associate Professor, Institute of Textiles and Clothing
Tel: (852) 2766 6525