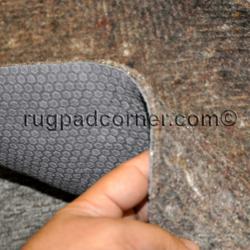 We want any size and shape of rug to have the right felt rug pad, which is why there is no end to the selection of felt rug pads that we offer.
Wilton, CT (PRWEB) March 29, 2012
Rug Pad Corner, the nation's online source for quality rug pads, is pleased to announce that it has recently added to its selection of felt rug pads. The company has added more sizes and shapes to its Ultra Premium and Superior felt rug pads, making this the most diverse selection of felt rug pads available anywhere.
"Our felt rug pads are our flagship products and this expansion was only sensible," states Sam of Rug Pad Corner. "Ultra Premium and Superior felt rug pads are desired by many and we want to make sure every rug, regardless of size or shape, can benefit from these felt rug pads." Sam continues to state that the company already offers many sizes and shapes of felt rug pads, yet there were still more that can be offered. In the new offerings are more rectangular, round, square, oval, octagon and runner felt rug pads.
In terms of felt rug pads, Ultra Premium and Superior are about as good as they come. The difference between the two is that Ultra Premium combines natural rubber with the felt for those rugs that need help with slipping. Both types of felt rug pads are now available in the same sizes and shapes to include, but not limited to, rectangles, rounds, squares, octagons, ovals and runners. The company has, and will continue to, offer shapes and sizes beyond what is listed on the web site through custom cut orders. "We are in the felt rug pad business, which means that every rug can have a felt rug pad," continues Sam. "Whether a customer rug is a standard size and shape or the most unique shape, we can cater to anything involving rug pads." Sam continued to tell us that the company was recently commissioned to cut and supply a 24 foot round Superior felt rug pad for a customer's round room in California. The company was successful at supplying this rug pad to the exact specifications of the rug.
Rug Pad Corner manufactures Ultra Premium and Superior felt rug pads in the USA with American products. Because the company makes and stocks the actual rolls of rug pads, it is able to cut virtually any size and shape. Unlike other stores, Rug Pad Corner does not have already cut and packaged rug pads waiting to be shipped. The company believes in cutting its felt rug pads separately for every order at time of order. A visit to the Rug Pad Corner web site will show the impressive variety of felt rug pad offerings that all come with free shipping within the contiguous United States.