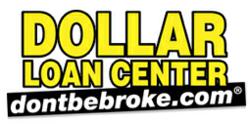 "We launched our new website last week, and want everyone to come and check it out," said Dollar Loan Center CEO Chuck Brennan. "What better way than to hold an Easter Egg Hunt with prizes every day?"
Las Vegas, Nevada (PRWEB) March 29, 2012
Dollar Loan Center has a spring surprise for fans of its new website, http://www.dontbebroke.com. Every day from Monday April 2 through Saturday April 7, the short-term lender will hold an Easter Egg Hunt exclusively on its website.
"We launched our new website last week, and want everyone to come and check it out," said Dollar Loan Center CEO Chuck Brennan. "What better way than to hold an Easter Egg Hunt with prizes every day?"
During the Dollar Loan Center Easter Egg Hunt, visitors can click on the website's pages to find a special Easter Egg cluster and be eligible for that day's prize in a random drawing. The clusters will be hidden throughout the site and change locations every day.
"We'll do the drawings the very next day, so you can check back on the website or the Dollar Loan Center Facebook page and see if you won," said Brennan. Promotion rules and details are also available on Dollar Loan Center's website and Facebook page.
Drawings will be held the morning after each day's Easter Egg Hunt. One prize will be given each day. Participants can win the following prizes:
Monday April 2 Prize: REI $100 Gift Card
Tuesday April 3 Prize: iPod Nano
Wednesday April 4 Prize: $100 Cash Money
Thursday April 5 Prize: $100 StubHub Gift Certificate
Friday April 6 Prize: $100 Cash Money & iPod Nano
Saturday April 7 Prize: REI $100 Gift Card
"Good luck and have fun checking out all the new features on Dollar Loan Center's website," said Brennan. "It is one of the best in the industry, with the ability to apply for and receive a loan online, information on money management and details on this contest and other events featuring Dollar Loan Center."
Dollar Loan Center is the largest provider of short term credit Services in South Dakota and Nevada with 50 Dollar Loan Center locations throughout the two states and Utah. The philanthropic stores support dozens of organizations including Las Vegas' favorite charity, Opportunity Village, and Alice and Sheryl Cooper's Solid Rock Foundation, among many others. Brennan himself is one of Nevada's most recognized philanthropists, giving nearly $500,000 annually to charities across the country.
For more information, visit http://www.dontbebroke.com.