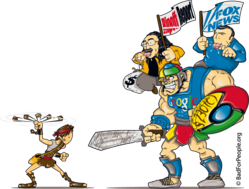 "These actions are tantamount to State Sponsored Cyber-Terrorism"
Orange County, CA (PRWEB) March 28, 2012
The Lawsuit: "There is a conspiracy between Google and RipOffReport.com to manipulate negative search results for financial gain."
Roberts alleges that in order to increase profits, Google establishes higher rankings on negative results to promote advertising revenues via their AdWords® product while enjoying Federal immunity under Section 230C of the Communications Decency Act. He says: "these actions are tantamount to State Sponsored Cyber-Terrorism".
Today Roberts filed suit against Google, RipOffReport and Fox News for defamation, civil conspiracy, tortious interference and other misdeeds, seeking both injunctive relief and punitive damages due to Defendants accusing him of criminal hacking.
Robert's states that Google deliberately elevates allegations of misconduct and other negative items, including those they reconstitute to give a different context to encourage search users to click on AdWords® advertising. U.S.C. § 230c protects ISPs against liability from poor or erroneous information, as a conduit, not the author. This type of protection is needed and should be in effect. Notwithstanding, he claims that Google's actions go beyond this scope when they purposefully change the context in order to boost profits by repulsing search users from the people they were originally seeking. Google, although often protected by § 230c in other cases, still has a social responsibility under that law to remove defamatory material once it is brought to their attention pursuant to the "Good Samaritan" provisions therein. Their duplicity in these matters is evidenced by the global trail of emotional destruction.
The lawsuit asserts that false allegations of misconduct should not be artificially elevated in search results; more importantly, Google should not be permitted to turn a blind eye to a victim's pain even if they have § 230c immunity, once the defamation is brought to their attention.
About Michael Roberts
Michael Roberts is an Australian citizen and has been in California for over seven months while awaiting passports for his US children, now that their mother has been jailed for life without parole. He operates his businesses http://www.Rexxfield.com and http://www.BadForPeople.org as a Social Forensic, Digital Forensic, Internet Defamation Analyst and Internet reform activist.
More details including a copy of the lawsuit are available at http://www.BadForPeople.org
Superior Court of California, County of Orange - Civil - Unlimited Civil Complex Center
Case name: Michael Roberts vs. Google, Inc. Case number: 30-2012-00557149-CU-DF-CXC