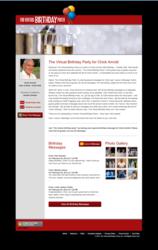 Phoenix, AZ (PRWEB) March 30, 2012
Did you know that every day 10,000 people in the United States turn 65 years old? That's a lot of 65th birthdays! With the recent launch of The Virtual Birthday Party.com, friends and family anywhere in the world can convene at a "virtual gathering place" for a 65th virtual birthday party. There are no written invitations to send out or RSVPs to track…no venue, no menu. All made easy and affordable.
The Virtual Birthday Party.com is a user-friendly, online vehicle especially designed for hosting "virtual" birthday parties for those reaching the magical age of 65, or any other age, for that matter.
The Virtual Birthday Party works in a remarkably simple way. A self-designated "host" (which could be the birthday person) chooses a themed party template, writes a host message, uploads photos, and invites "guests" to join in through email. Guests are encouraged to leave special birthday messages. During the virtual birthday party, all birthday messages are available for preview. After the party, a hard copy of the birthday messages may be saved and printed as a birthday keepsake, serving to leave a lasting impression on the birthday person.
The idea came about when Pam Koester went looking for a similar site where she might honor her husband for his 65th birthday. She was surprised to find nothing comparable existed. So she and her sister, Wendy Carson, created The Virtual Birthday Party. "In the end, my husband was excited and floored by the dozens of heartfelt responses his birthday site received. Without a doubt, it was the perfect 65th birthday gift."
The Virtual Birthday party is an interactive, user-friendly site that may be customized to fit any age or birthday situation. This unique virtual experience is now available to produce maximum communication with minimal effort. Friends and family members pay nothing to leave their personal messages, making The Virtual Birthday Party.com simple, fun and memorable.
A 65th virtual birthday party at TheVirtualBirthdayParty.com can be created at any time by anyone – virtually.
About The Virtual Birthday Party, Inc.
The Virtual Birthday Party, Inc. is a privately held company in the United States. It was created as a solution to the need of a "virtual gathering place" for family and friends to celebrate a special person's birthday. As a community-minded company, The Virtual Birthday Party, Inc. pledges 7 percent of its profits to community-based non-profit organizations all over the world.
For more information, visit TheVirtualBirthdayParty.com.