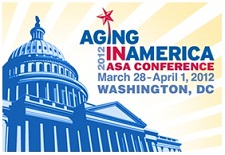 Recent studies have found that 74% of caregivers believe that technology will increase their effectiveness.
New York, NY (PRWEB) March 28, 2012
John Mills, eCareDiary Chairman and Margery Pabst, Co-author of "Enrich Your Caregiving Journey" will present a workshop entitled, "Strategies for Uniting Families: Tools and Technology to Help Family Caregivers" at the 2012 Aging in America Conference in Washington, DC on Saturday, March 31st, 2012. The workshop will be conducted at the Omni Shoreham hotel in the Governor's boardroom from 8:00 AM – 9:00 AM EST.
In the workshop, Margery Pabst will address the challenges involved in getting families to act cohesively when caring for an ill or aging loved one and will provide practical advice on getting everyone to work together. She will discuss storytelling as a natural tool for family cohesiveness. John Mills will focus on caring from a distance and technology to assist caregivers and care recipients.
According to John Mills, "Getting families to work together when caring for an aging parent can be challenging. Technology offers a solution . Recent studies have found that 74% of caregivers believe that technology will increase their effectiveness. Our panel will explore ways to use technology to improve family communication and provide the support needed to care for your loved one."
eCareDiary.com offers a free e-tool for caregivers called the Care Diary that helps family caregivers manage appointments, medications and store important documents in a secure and private place.
John Mills has over 20 years of experience in the health care field having focused on health care policy, technology and insurance product development. He brings a unique perspective to the issues of long term care and developed a website designed to address caregiver's needs after caring for his father who suffered from Parkinson's disease.
Margery Pabst has over 30 years experience as a national speaker, facilitator, and is the co-author of four books focused on human potential and personal resilience. She is the co-author of "Enrich Your Caregiving Journey", winner of the 2010 "Caregiver Friendly Award" and the host of eCareDiary's "Caregiver and Physician Conversations" which airs the last Tuesday of each month at 2PM EDT.
Hosted by the American Society on Aging, the Aging in America Conference takes place on March 28th – April 1st, 2012 in Washington, DC at the Marriott Wardman Park and Omni Shoreham hotels. It is the largest gathering of a diverse, multidisciplinary community of professionals from the fields of aging, healthcare and education, along with business leaders from across the United States.
About eCareDiary
eCareDiary.com is a leading online community for caregivers of aging loved ones providing the content, tools, and resources to help them manage care. A signature feature is the Care Diary, a free e-tool to help caregivers manage appointments and medications, store and share their loved one's information in a secure, private space. eCareDiary has been featured in The New York Times, The Wall Street Journal and won the 2010 New Product & Technology Silver Award by the Mature Market Resource Center. AARP listed eCareDiary as one of the '11 Technologies You'll Want Now" alongside Google and Skype.