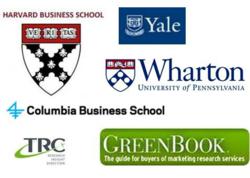 I'm glad to be once again meeting our commitment to bring ideas from top academics to the marketplace.
Philadelphia, PA (PRWEB) March 30, 2012
TRC, a market research firm specializing in new product research and analytics (http://www.trchome.com), announced today their upcoming one-day market research conference at the Yale Club of New York City on May 8th, 2012.
The speakers will come from top business schools, Greenbook and TRC. Assistant Professor Uma Karmarkar from Harvard Business School, Professor Shane Frederick from Yale School of Management, Professor Olivier Toubia from Columbia Business School and Professor Josh Eliashberg from Wharton School of Business will join Leonard Murphy from Greenbook and Pankaj Kumar from TRC.
Registrations for the market research conference are being accepted.
"I'm glad to be once again meeting our commitment to bring ideas from top academics to the marketplace. Given the caliber of speakers this year's event is likely to be biggest one yet and will provide every researcher who attends with new ideas to drive better research and with that greater ROI for the firms they represent," says Richard Raquet, TRC's President.
The one-day market research seminar themed "The Frontiers of Research 2012" will be divided into six sessions:
1/ Research 101 Redux: A New Foundation for the Future, By Leonard Murphy , Editor-in-Chief, Greenbook
The research industry is transforming before our eyes; new technologies, new cultural trends and new business realities have converged and the industry must adapt or risk disintermediation and marginalization. Drawing on data, observations, and experience Leonard Murphy will craft a vision of how advances in multiple relevant disciplines made within academia can be partnered with commercial practitioners to drive value for both in the new paradigm.
2/ Is Behavioral Economics a Pleonasm?, By Shane Frederick, PhD, Professor of Marketing, Yale School of Management
Nobel Prize winner Herbert Simon argued that "the phrase behavioral economics is a pleonasm – a redundant phrase, like tuna fish or "circle around." He rightly asks: "What non-behavioral economics can we contrast it with?" The answer to Simon's question may be found in assumptions made about humans. In economic theory, human computational ability and willpower is unbounded. When such assumptions are relaxed, economic models may yield different predictions about behavior, and the correct conclusions then require actual data, rather than following deductively from model specifications. There are four neoclassical assumptions in particular that "behavioral economists" challenge (1) That people act in their best interest (2) that beliefs are unbiased (3) that logically equivalent descriptions yield identical behavior and (4) that incentives, arbitrage opportunities and learning eliminate error. Professor Frederick will discuss the evidence against these positions.
3/ Measuring Consumer Preferences Using Conjoint Poker, By Olivier Toubia, PhD, Professor of Marketing , Columbia Business School
Several advances have been made in the understanding of consumer preference through the use of conjoint analysis. A novel approach applying gaming ideas is the use of a conjoint approach modeled on the game of poker. This presentation will explain how this idea was applied and with the help of data from different studies including eye-tracking measurements show how and why this method works.
4/ Grey Matter Matters: What Neuroscience Tells Us About Preferences and Decisions, By Uma Karmarkar, PhD, Assistant Professor of Business Administration, Harvard Business School
In the last few years, the use of neuroscience methodologies in fields such as marketing and finance has gained a lot of attention. These tools are capable of yielding powerful insight when applied correctly. For example, they can be used to capture physiological and emotional responses that are difficult to detect accurately via linguistic methods like surveys. This talk will provide a brief overview of decision neuroscience methods, and data that shows how they are bringing us a new understanding of the decision process and the influence of context on how we estimate value. It will also discuss some of the most recent advances and directions in the field.
5/ The Film Industry: Predicting the Unpredictable, By Jehoshua Eliashberg, PhD, Professor of Marketing and Operations and Information Management, Wharton School of Business.
Bringing science to creative industries such as motion pictures, where decisions are typically made based on intuition can be quite challenging. In this talk Professor Eliashberg will draw upon twenty years of experience introducing new methodologies to movie exhibitors, distributors and producers. A script-based model he developed to predict movie success will be presented and its relevance for practitioners discussed.
6/Building Realistic Models of Choice in Practice, By Pankaj Kumar, PhD, TRC's Executive VP
Success in marketing boils down to knowing how and why consumers make choices. And it is a well-known fact that choice processes vary across people and situations. Yet most choice research and modeling studies in practice fail to account for these variations in choice processes. For example, two of the most widely applied choice studies in practice, max-diff and conjoint, fit the standard choice model that estimates individual-level utilities in every situation. While this standard model accounts for individual differences in preferences, it does not account for other sources of variation and quite frequently gives rise to unrealistic research designs and the research doesn't really address the problem that the study intended to address. We discuss some of these issues in this presentation and show how we have made advancements in choice research design and modeling through practical examples.
About TRC Market Research, a market research and analytics firm
TRC Market Research is a market research and analytics firm that pairs customized solutions with senior-level attention to help solve business problems. TRC provides expertise in designing and implementing successful choice-related research, including product configurators, discrete-choice conjoint analysis and other analytic techniques.
Philadelphia based TRC Market Research is affiliated with the Council of American Survey Research Organizations (CASRO) and the American Marketing Association.
For more information, call Lenka Kolar at 215.641.2225 or visit http://www.trchome.com