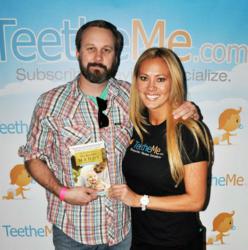 "Matthew's story resonates with every parent," says TeetheMe founder Akemi Williams.
TAMPA, FL (PRWEB) March 30, 2012
One lucky subscriber to TeetheMe.com, a monthly subscription service delivering the hottest baby products to parents, will win a live video Spreecast with New York Times bestselling author Matthew Logelin, author of the memoir Two Kisses For Maddy. TeetheMe will also host a live Spreecast event open to the public; viewers may ask Matt questions live during the event.
In his partnership with TeetheMe, Logelin will give 25 members chosen at random, signed copies of his newly released soft cover book. Members must sign up for the subscription service by April 6th to be eligible for the book giveaway and private videocast.
"Akemi and I bonded over being single parents, and I'm excited to be a part of the TeetheMe phenomenon," says Logelin.
Logelin has appeared on Oprah and has no shortage of literary and celebrity fans. Heidi Klum recently posted a favorable review of his book, and fellow novelists John Grogan and Brad Meltzer are calling it a must-read. According to Williams, the novel is also a natural fit for members of the TeetheMe community. Those interested in the Spreecast may register at http://www.spreecast.com/events/exclusive-with-matt-logelin.
"Matthew's story resonates with every parent," says TeetheMe founder Akemi Williams, who was moved by Logelin's story and met the author during a pre-Oscar promotion in Hollywood. "His memoir is a beautiful tribute to his wife, who passed away after their daughter was born, and above all, it's a story about hope."
TeetheMe is a subscription service that features baby products for ages newborn to three. TeetheMe members receive 4-5 innovative baby care products packed inside a signature TeetheMe box each month.
A monthly subscription to TeetheMe is $24 and can be requested at http://www.teetheme.com. In addition to receiving a box of products handpicked by savvy mothers each month, members may rate, review and share product experiences as members of the TeetheMe.com community. In the site's Diaper Bin, a convenient one-stop newsroom, readers can escape to their favorite mom blogs or catch up on the latest parenting trends. Recipes, advice and more are featured on the site's blog, The Daily Drool.
Members of the exclusive social network The Teethers will soon be able to create profiles featuring their children while also making priceless parent-to-parent connections - all within a safe and secure network. For more information on TeetheMe.com, visit the official website at http://www.TeetheMe.com or follow facebook.com/teetheme, twitter.com/teetheme and pinterest.com/teetheme.