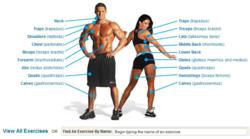 Boise, ID (PRWEB) March 30, 2012
Bodybuilding.com, the Internet's most-visited bodybuilding and fitness site and largest online retailer of nutritional supplements, now offers the world's largest online encyclopedia of exercises. Led by top industry experts, visitors are able to search through over 1,000 exercises and find full instructions and video on how to correctly perform every movement from beginning to end, all for free.
This extensive exercise guide is designed for the novice to the expert, providing the basic exercises (i.e. standard bench press) to more complicated movements (i.e. incline push-up depth jump). Users can browse or search exercises by type (i.e. machines, free weights, body resistance, etc.), body part (choose from 16 different muscle groups) or exercise name.
Unlike an ordinary encyclopedia, this exercise guide is interactive. The videos show each exercise from beginning to end with the choice of a male or female trainer for guidance. Users have the ability to rate, critique and comment on every exercise – helping one another decipher the best exercise for optimal results. Best of all, users can view the exercise guide straight from the gym with the free Bodybuilding.com App, making it easier than ever to check their form or generate new exercises on the spot.
For more information on the world's largest online encyclopedia of exercises, please visit http://www.bodybuilding.com/exercises/?mcid=PRGuide.
Bodybuilding.com offers more than 13,000 health and fitness supplements and accessories to help more than 15 million people every month achieve their health, fitness and appearance goals. The website contains more than 35,000 pages of FREE information, including more than 20,000 articles and videos, expert online trainers and new content added daily.