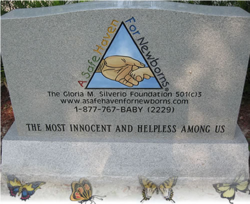 Miami Florida (PRWEB) March 30, 2012
Newborns are now being saved in Florida as a result of the Safe Haven for Newborns program, providing them a chance for a future. Unfortunately, from time to time, we experience the tragedy of a newborn left in an unsafe place and not surviving. The Garden of Innocence is for those precious little ones.
The Garden of Innocence is made possible by the generosity of Woodlawn Park Cemeteries who donated this beautiful location and the special headstone which will provide a dignified, peaceful, final resting place for any newborn that is abandoned in Florida, tragically resulting in their death. It is our hope and prayer that we never have to place and innocent child in this Garden. The management and staff of Woodlawn Park Cemeteries are very compassionate and caring.
A Safe Haven for Newborns sincerely thanks Woodlawn Park Cemeteries for "Giving Back" in such an important way to the community and thanks them on behalf of each precious child that will have a final resting place in this lovely garden.