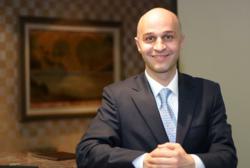 At Itani Dental San Francisco, we do not want any patient to suffer with infections, broken teeth, or generally poor smile appeal because they cannot overcome dental phobia
San Francisco, CA (PRWEB) March 30, 2012
Fear of dental work, known as dentophobia or orodontophobia, is very common. An estimated 75% of people have "at least a little fear" about dental visits, and 10-15% of people are so phobic that it they do not seek treatment at all. Unfortunately, phobic patients often need treatment the most, since their fear prevents them from getting regular treatment. Dr. Samer Itani, a San Francisco dentist, now offers a number of solutions to help people deal with dental anxiety and phobia. From extra counseling to full sedation, Dr. Itani will do what it takes to ease patients' minds so they can get the dental work they need.
"At Itani Dental San Francisco, we do not want any patient to suffer with infections, broken teeth, or generally poor smile appeal because they cannot overcome dental phobia. We want to treat you before a tooth gets infected or broken or your gums require intense periodontal work," explains Dr. Itani.
Itani Dental has adopted the industry philosophy of "getting to good." This might mean taking small steps to overcome learned or perceived negativities when it comes to care. The San Francisco dental office can segment out appointments if this eases a patient's anxiety, or they can bundle all procedures into one visit to ease the tensions of patients who would prefer to avoid the dental office as much as possible.
"We suggest you utilize positive conversation with your dentist or hygienist and take whatever time you need beforehand to call us with questions or concerns about your appointment. Stop along the way of treatments or procedures to ask any questions, or even if you just need a break," suggests Dr. Itani.
Sedation dentistry is sometimes required when patients need to ease their anxiety, fear or phobia. Options include: Oral Conscious Sedation Dentistry, Inhalation Conscious Sedation Dentistry, Intravenous Conscious Sedation Dentistry, Intramuscular Conscious Sedation Dentistry, or General Anesthesia.
Inhalation or oral sedation may not be enough for patients with severe phobias who either face extensive work because of avoidance of the dentist, or whose phobia is so marked that the only way to safely treat them is with deeper sedation. For these patients, Itani Dental will arrange to perform the dental work at a nearby hospital.
At Itani Dental, only an experienced anesthesiologist ever administers I.V. sedation and/or general anesthesia while the dentist and hygienist treat the patient's dental needs. Since they treat at-risk medically and emotionally compromised patients, they feel it is their responsibility to provide the greatest level of safety for everyone involved.
Dr. Itani is President of the California Hospital Dental Group. He has provided CE lectures to many of the regional components and has participated in conferences as an exhibitor.
Dr. Itani is a long-standing and involved member of the Special Care Dentistry Association, the American Association of Hospital Dentists, and is a fellow of the International Congress of Oral Implantologists; He has lectured to these groups and study groups about treating special needs patients. Itani Dental has also been a proud sponsor of the French American Foundation for Medical Research and Education.
Dr. Itani is Vice Chief of the Dental Division at Kaiser Permanente and on medical staff at California Pacific Medical Center, Marin General.
"I'm very afraid of the dentist, but this experience has kind of brought me out of it," testifies Sharon, a patient of Itani Dental. "They take very good care of you." To view her video testimonial, visit http://www.youtube.com/watch?v=v64gkek776I&feature=youtu.be.
For more information about Itani Dental's San Francisco dental services, call (415) 830-9631, visit http://www.itanidental.com, or stop by 450 Sutter Street, Suite 2318, San Francisco, California 94108. Become a fan of Itani Dental on Facebook at http://www.facebook.com/ItaniDentalSanFrancisco. Follow them on Twitter @ItaniDental.
About Itani Dental
Itani Dental is a leading and experienced dental practice specializing in the special needs and phobic niche of dentistry. For over 10 years, Itani Dental has offered cosmetic dentistry, sedation dentistry, and emergency dentist visits in the San Francisco Bay Area.