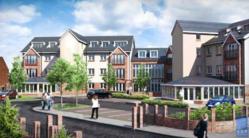 "Providing care homes for the elderly and disabled should offer one of the safest investments on the stock market. Local authorities pick up the bill and there is never any shortage of people needing a bed."

- The Independent
(PRWEB) March 31, 2012
The strength of the UK care Home industry has led Experience International to launch a new care home investment opportunity which will provide investors with the opportunity to secure 8% guaranteed NET returns for up to 10 years.
Colliers International's Stability of the Healthcare Income Stream report has revealed that care home investment property outperformed commercial and residential property in 2011, emphasising the strength of the sector to those looking to invest in care homes.
Comparing all UK property markets, Colliers International's report praised the performance of care home investment throughout the global economic downturn, citing the UK's rising elderly population as one reason why the sector is flourishing.
Focusing on data compiled between September 2007 and December 2010, the report showed that the largest dip in total returns was experienced by the commercial property sector which saw a 34% decline, shortly followed by the residential property sector which dropped by 15.8%.
Outperforming these markets during the same time period, healthcare property saw just a 4.4% decrease, highlighting the strength of the care home investment sector, even in times of economic uncertainty.
Why enter care home investment?
Investment in non- discretionary sectors such as healthcare property has become a profitable avenue for investors searching for a steady income stream.
Unlike other UK property assets, the performance of healthcare property has remained consistent over the past 4 years with EBITDAR rarely dropping below 30%, according to Colliers International. When compared to UK hotel RevPar, which dropped by 15% in 2008 alone, the strength of care home investment property is clear.
Reliant on the fact that there's an unprecedented demand for facilities to look after the elderly, 30.4% of the total healthcare property sector is made up of nursing and care homes. Industry experts predict that this number will rise in line with the UK's growing elderly population.
UK care home investment
For investors looking for care homes for sale, location is key to securing good returns. The best performing markets in the UK are the North, the Midlands and Wales.
Performing better than the national average, the North, Midlands and Wales achieved 11.9% total returns, 6.3% of this was income return and 5.2% was capital growth.
Located in the North West, a new care home investment has just been launched in an area where the population of people aged 65 and over commands 16.6% of the area's total population. The care home features a range of amenities including a conservatory, landscaped gardens, communal lounges, treatment rooms, consulting rooms and a hair dressing salon.
"In this time of economic uncertainty, our new care home investment will provide our members with the opportunity to secure 8% guaranteed NET returns for up to 10 years," Steven Worboys, MD of Experience International commented. "Available considerably below RICS valuation, investors can enter a low risk sector and benefit from a structured, hands-off investment."
Already under construction, investors can purchase units within a high specification facility on a 125 year leasehold tenure. Fully managed with no further maintenance or management charges, investors will also receive 15% interest per annum paid on deposit during construction.
With a limited number of below market value units available, those searching for high yielding care homes for sale should act now to avoid disappointment.
If you are looking for care homes for sale and would like to receive your complimentary report on care home investment, contact Experience International on 0207 321 5858 or email enquiries@experience-international.co.uk.