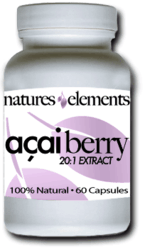 I love this product. I wake up with so much more energy and its definitely helped me to lose a little weight. I've been on it for 3 months and I just feel great!
-Kate S
Lindenhurst, NY (PRWEB) March 30, 2012
Recent Acai Berry reviews and feed back determine that Natures Elements Acai Berry Capsules are not only the of the highest quality but also of the highest potency of any Acai product on the market. This is actually one of the few companies that are not part of the Acai Berry Scam.
The Acai Berry Scam, discussed by Herb Weisbaum talks about companies offering free trials and deceptively charging customers who didn't return the product in time. Instead of false advertising and deceptive marketing tactics, Natures Elements is upfront and honest about their charges. (Weisbaum, Herb. "Acai berry scam: You'll lose money, not weight ." Consumer Man on MSNBC. MSNBC, 09 02 2012. Web.)
This is a company that you can enjoy the option of a discounted auto-ship plan and have confidence that when you call or email to cancel it, it actually will be canceled! Another thing consumers overlook when buying acai is how long will 1 bottle last you? There are some well known vitamin and herbal companies selling acai products with a 15 day supply. Customers usually think there getting a deal, but half way through the month find out why. Look at the serving size, 30 capsule bottles at 500mg and 60 capsule bottles at 250mg are both falling short of the bar. They do this because it makes the price "appear" to be less than their competitors. As with all of their products Natures Elements gives you a 1 month supply per bottle. As far as price goes we found Natures Elements Acai to be middle of the road at $24.95 or $19.95 on auto-ship.
Acai Berry grows in lush palm trees in the heart of the Amazon Rain forest. Acai Berry has been eaten in the rain forests of Brazil for centuries to enhance overall health, energy and vitality and has become a staple of the healthy Brazilian diet.
Natures Elements Acai Berry is the most potent available ensuring the consumer the maximum amount of antioxidants, amino acids, protein and fiber that this magical berry has to offer. Its powerful ingredients have been shown to increase metabolism and provide rich antioxidants. Studies have shown that antioxidants battle against harmful free radicals, and aid in heart health.
Antioxidants are produced naturally in the body and are derived from foods that are consumed. Antioxidants have major significance to overall health in terms of fighting free radicals. Without sufficient antioxidants, the body becomes a target for many adverse health consequences. A list of all the great benefits of Acai can be found at: http://natureselements.net/ACAI_BERRY.html
Natures Elements provides a high potency 20:1 extract of pure Acai Berry powder. A 20:1 concentrate means that out of 200 pounds only 10 pounds of extracted ingredients are used resulting in a higher concentration for the capsules. This potency is not commonly found on the market and as a result it is in increasing demand.
Natures Elements, a high quality vitamin and herbal supplements retailer, is committed to providing real results through dedicated research and superior formulations.