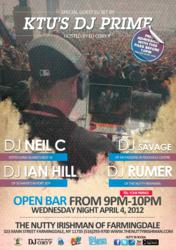 Farmingdale, NY (PRWEB) March 30, 2012
The Ultimate DJ Spinoff was born at the Nutty Irishman in the Fall of 2009 and has been classified by many as the American Idol for DJ's. It is hosted by its creator Cory Poccia AKA DJ Cory P. "It has been a stepping stone for many up and coming DJ's in the Long Island area," Poccia said.
This Wednesday, April 4th, 2012, at the Nutty Irishman of Farmingdale, the Ultimate DJ Spinoff makes its 10th return with DJ's Neil C, Michael Savage, Ian Hill, and Rumer. There will be a special half time show with nationally syndicated DJ Prime whose mix show can regularly be heard on 103.5 KTU in the New York area.
"This time around, we are showcasing some of Long Island's top talent. These DJ's are not in competition this time." Poccia said. "We are adjusting the format of the competition but wanted to keep the tradition going. Rather than cancelling the annual Easter break show, we made it a showcase," he added.
This event will feature an open bar from 9 p.m. to 10 p.m. Music begins at 9:30 p.m. It will take place at 323 Main Street in Farmingdale at the Nutty Irishman. You can download a free admission pass on facebook at https://www.facebook.com/pages/Nutty-Irishman-Farmingdale-Fan-Page/303465555901
You may also contact Cory Poccia AKA DJ Cory P at bookings(at)djcoryp(dot)com or find him on the web at http://www.djcoryp.com