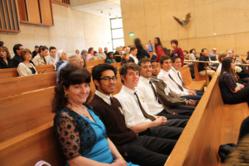 It is amazing to me how art can bring out the deepest, most provocative, and most beautiful images of the Resurrection as illustrated by our Crespi Men.
Encino, California (PRWEB) March 30, 2012
His Holiness, Pope Benedict XVI, believes "true art reveals God." In an address at his summer residence of Castel Gandolfo, Pope Benedict iterated this message to more than five thousand pilgrims. "Art is capable of making our need to go beyond what we, see and it reveals our thirst for infinite beauty," said Pope Benedict. Throughout the Catholic Church's history, the fine arts have always been a vital part of the expression of faith. Since medieval times, many patrons have helped to fill cathedrals with beautiful works of art.
On Sunday, March 11, 2012, ten Crespi Carmelite students had their award-winning artwork featured at the opening of the Annual Robert Graham Memorial Student Art Exhibit at Our Lady of the Angeles Cathedral. Following the 10:00 A.M. Mass at the Cathedral, Monsignor Kevin Kostelnik presided over the Opening and Blessing Ceremony in the two chapels of the North Ambulatory. Joining Kostelnik for the ceremony were art patrons, Gayle Roski, and Robert's son Steven Graham, along with the Reverend Paul Henson, O. Carm., Principal of Crespi Carmelite. Reverend Henson was also a concelebrant of the Mass prior to the ceremony. "It is amazing to me how art can bring out the deepest, most provocative, and most beautiful images of the Resurrection as illustrated by our Crespi Men," said Reverend Henson.
Crespi Carmelite students Nicholas Haney (2012), Dallas Martinez (2012), James Ramlochan (2013), Henry Levinson (2013), William Lynch (2013), Alessandro Bressan (2015), Chuck Lopez (2015), Kyle Schlopy (2015), and Nicholas Vernoy (2015) were on hand to display their art and receive their awards. Crespi Senior Nick Haney was ecstatic at the public display of his art. "It is a great honor to have it displayed here. Overall it's been a great experience," said Haney.
Joining the students in the celebration were their families and Ms. Deanna Belsheim, Chair of Crespi Carmelite Visual and Performing Arts Department. Belsheim's favorite part about teaching art is watching the students create their works in class. "It is like Christmas everyday because of the variety of visions of the ninth through twelfth grade high school boys, making sculpture, architecture, drawings and paintings," said Belsheim. Ms. Belsheim and her students began planning for this exhibition almost a year ago and chose the Resurrection as the theme for the school's submissions. "I am so proud our boys here from Crespi at the Cathedral. All of the planning since last May has finally paid off," added Belsheim.
The Annual Robert Graham Memorial Student Art Exhibit honors the memory of renowned artist and sculptor, Robert Graham. He was not a native of Los Angeles, but Graham's public works of sculpture have become synonymous with the city. He will always be remembered at the Cathedral for one of his most exclusive designs, the Great Bronze Doors. The Cathedral hopes that by naming this annual exhibit in Graham's honor, it will continue to influence and inspire young Catholic artists throughout Los Angeles. The impressive exhibit runs through early May and also includes student artwork from six other Catholic High Schools from the area.