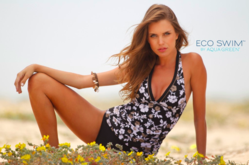 The power for real change resides with the consumer.
Easton, PA (PRWEB) March 31, 2012
ECO SWIM BY AQUA GREEN is a leader in a new wave of businesses that are changing the world. The swimwear company thinks about the triple bottom line of people, planet, and profit every step of the way.
"There are plenty of companies out there making things. There are plenty of companies that make swimsuits. But few companies make swimwear in a way that changes the way the game is played," says Alex Waldman.
ECO SWIM BY AQUA GREEN bathing suits are made from recycled polyester, nylon, and cotton. But more significantly, they're made from recycled plastic bottles, recycled fishing nets, and other items that tend to wash out to sea. "When we recover items that would otherwise wind up on beaches and waterways around the world and turn them into stylish swimwear, not only do we keep those beaches clean but we also raise awareness about the environmental issues," says Waldman.
Over 14 billion pounds of waste enter ocean and waterways every year. Much of it winds up on the coasts of faraway beaches and in one of the 5 major ocean garbage patches. "Many people don't know that the Great Pacific Garbage Patch is only one of 5 masses of floating plastic soup out in the ocean," says Waldman.
"The power for real change resides with the consumer, after all," says Waldman. "As consumers learn about the issues affecting oceans and waterways, they also learn that their purchases have the power to affect real change."
ECO SWIM BY AQUA GREEN is at the forefront of responsibly-made and innovative products, and is both responding to and driving consumer demand for more products that look great and are also great for the planet. "We hope that in a decade, other swimwear companies will look back on what we're doing now and realize that our model is the best one for our both companies and for local and global communities," says Waldman.
By using recycled materials instead of virgin fibers, ECO SWIM BY AQUA GREEN is also reducing the amount of raw materials that are typically sourced from the earth. "Whenever possible, we avoid using virgin materials. That way we can keep the resources our planet has to offer intact for future generations," says Waldman.
What really separates ECO SWIM BY AQUA GREEN isn't just a commitment to using less but is also a commitment to doing more. A sustainable supply chain is only one part of the equation. ECO SWIM BY AQUA GREEN participates in several ocean and waterway cleanups with environmental partner United By Blue. "Giving back is ingrained in the company culture. All of our employees get out and volunteer their time to clean up local waterways," says Waldman.
So far, the company has removed over 3,000 pounds of trash from oceans and waterways. The next cleanup will be hosted in celebration of Earth Day on April 21 in Myrtle Beach, South Carolina with ECO SWIM BY AQUA GREEN retailer Belk.
"Our motto is to reduce our carbon footprint in the sand. And with everything we do, we're leading the way for cleaner sands of tomorrow," says Waldman.
ECO SWIM BY AQUA GREEN is the world's leading sustainable swimwear brand, making suits from recycled materials. ECO SWIM BY AQUA GREEN is based in Easton, PA and its swimsuits can be purchased at specialty and department stores as well as on select websites. For more information about ECO SWIM BY AQUA GREEN's environmental leadership, swimwear and events, visit the web site at http://www.ecoswim.com, find the brand on facebook at http://www.facebook.com/ecoswim, and follow the company on twitter @eco_swim.