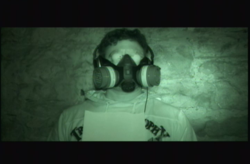 I just got sick of various fake paranormal shows that were edited down without showing the audience what was really happening and letting them decide for themselves.
Atchison, KS (PRWEB) April 17, 2012
Billed as "Big Brother meets Ghostbusters" online reality show LiveSciFi.tv is scoring a hit this weekend as the relaunch of their cult streaming ghost hunting show gets over 4 million views in the first 48 hours, going into their final night on location at the haunted "Sallie House" of Atchison, KS. Scheduled to last 72 hours, the response to the show has been so great the team decided to extend it to 96 hours to give the viewers just a bit more paranormal investigation to ponder until the next live show scheduled for late May. LiveSciFi can be viewed live from now until 4am PST Tuesday April 17th at LiveSciFi.tv. Evidence clips will be posted over the next few days to the LiveSciFi.tv paranormal blog.
Known for taking tamer cable TV ghost hunting fare to the extreme, the LiveSciFi team (Tim Wood, Scott Di Lalla, and Patrick Langdon) visit the most haunted locations and take turns doing various experiments such as Ouija board, Ganzfeld sensory deprivation, BeezleBox(tm) and Ghost Radar®. Calling itself "As real as it gets." the show allows viewers to watch unedited continuous feeds from various rooms in the house while the ghost hunters deal with whatever supernatural energies may exist in the house and attempt to bring them to the visual and aural realm for all to see.
Created by Wood in late 2007, LiveSciFi was the first live streaming paranormal show ever attempted on the internet and it achieved a cult-like status among loyal followers even though the technology wasn't up to today's standards. "I just got sick of various fake paranormal shows that were edited down without showing the audience what was really happening and letting them decide for themselves," says Wood, "I never imagined it would go this crazy." The show came to the attention of award-winning One World Studios Ltd. toppers Scott Di Lalla and Zack Coffman who acquired it just three weeks prior to this weekend's streaming, keeping Wood on as host and creative director. The One World duo had just finished up their own paranormal Ouija movie, a feature film called "I Am ZoZo" shot entirely on Super 8mm and based on true accounts of the demon ZoZo attacking people through the Ouija board, when Di Lalla's friend and fellow paranormal hobbyist Patrick Langdon mentioned that the intense online reality show he had appeared on needed another camera operator. Di Lalla accompanied LiveSciFi for a weekend and when he returned he told Coffman, "We gotta get in on this." Two weeks later One World had acquired the show and began seeking sponsors and a platform to stream it to the widest possible audience. "We approached all the usual suspects, but honestly, this is sort of unexplored territory so it wasn't easy with such a short window before the next show. Justin.tv told us that they could offer a front page placement and we had the deal done in a matter of hours. Muses Coffman, "The guys at Justin told us to expect 750k to 1 million viewers over the weekend and those were amazing numbers to us. We never expected the response to be four times that...and it's still going for one more night."
Last Second Scrambling -- With the show scheduled to go live two days hence, on Friday the 13th, Coffman took the viewer estimates and tried to arrange some sponsorships. He contacted Dickies with whom One World had a long-standing relationship through One World's series of cult motorcycle movies (Choppertown). Recounts Coffman, "I wasn't sure what they'd say about an edgy ghost hunting show, but I think there was a level of trust we had built up over our previous projects and I basically just promised them it would be worth their while." Dickies PR Director Misty Otto made the call while on a business flight en route to Chicago, "Zack (Coffman) said he had an amazing last second opportunity and sent me a quick synopsis that we found compelling and fresh. That and our previous good experiences with One World made it easy to jump on board even on short notice. We always enjoy working with Scotty, Zack and the One World crew because they bring a very real, raw and interesting perspective to the projects they tackle." With a main sponsor on board and only hours before the show was scheduled to go live, Coffman approached one more sponsor, Spud Pickles, makers of the #1 ghost hunting app Ghost Radar®. "We love the app and it's far and away the most popular of all the ghost hunting apps out there with several million downloads so they (Spud Pickles) were definitely my first choice," says Coffman. Like Dickies, Spud Pickles topper, Jack Jones saw the opportunity immediately and bought a sponsorship right there on the phone. Then in a sign of good things to come, Spud Pickles released a global update to all their users featuring a graphical splash page and a link to LiveSciFi's homepage. Said Coffman, "We were so happy that Spud Pickles got on board, but they went far and above the sponsor relationship by helping to promote the show the way they did. We got thousands of hits that first day from the Ghost Radar® update alone."
As the team were setting up in Atchison, One World continued the last-second PR blitz. "We started calling all the local TV stations in Kansas City, telling them about the Friday the 13th ghost hunt. None of them showed up but local ABC affiliate KMBC published our release on their blog and it just took off. That posting caused several thousand hits, and then MSNBC reposted it just as the show was going live on Friday evening followed by About.com. "We must have gotten a good 10,000 hits from those posts alone." says Coffman.
With the show going live and the last touches and updates going on the site, the team focused on creating the best interactive viewer experience possible. Wood, Di Lalla and Langdon began investigating various parts of the house while receiving tweets from viewers that had already been watching the quad-cam splitscreen for hours. Wood and the team then tried to base their focus on the information coming in from the viewers, continuing until 4am when the team set up their sleeping bags right in the center of the living room floor; the cams running on them as they slumbered fitfully with their viewers watching over them.
About One World Studios Ltd.:
One World's first feature documentary "Choppertown: the Sinners" focused on a renowned group of California bikers known as the Sinners. Produced in 2004 with a stack of credit cards, this award-winning documentary heralded a return to the values of a simpler time and spawned a worldwide cult following culminating in a seventeen-country European theatrical tour sponsored by Dickies. After selling 20,000 Choppertown DVDs out of an apartment in West LA, Coffman and DiLalla were able to quit their part-time jobs and make films full time since 2005. I Am ZoZo is their sixth feature and first narrative. LiveSciFi is their first LIVE reality show.