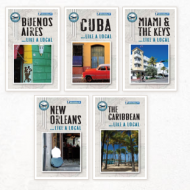 "Like a Local" guides on sale April 16, 2012
(PRWEB) April 01, 2012
No one knows how to travel like a local better than Peter Greenberg. Today, he shares his hard-earned expertise on destinations around the globe in his new "Like a Local" series of guidebooks (on sale April 16, 2012), videos and travel tips.
Best known as the Travel Editor for CBS News, Greenberg has been traveling more than 400,000 miles a year for more than two decades.
Together with Michelin, Greenberg is releasing a series of "Like a Local" travel guides to Buenos Aires, Cuba, the Caribbean, New Orleans, and Miami. These books share not only the must-see sights and activities, but also reveal insider tips on how to navigate the process of travel to get the best experience.
Learn tips like how to avoid the touristy tango clubs in Buenos Aires and dance with the locals in a milonga; where to find street food stalls serving locally sourced seafood in the Bahamas; how to spend a day with Cuban tobacco farmers in Pinar del Rio; when, how and why you should get out of the French Quarter and into New Orleans' up-and-coming neighborhoods; and how to volunteer in a Florida wildlife refuge or national park;
Each destination is paired with a video packed with travel tips, which are featured on PeterGreenberg.com and LikeaLocalBooks.com.
PeterGreenberg.com is also running "Like a Local" web originals that highlight Peter's travels around the globe for his nationally syndicated radio show. Learn all about seafood culture in Destin, Florida; expatriates in Panama City, Panama; and Amsterdam's waterways .
Check PeterGreenberg.com every Monday for a new Like a Local video, and follow Peter on Twitter, Facebook, Foursquare, and his new "Live Like a Local" board on Pinterest.