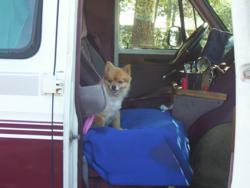 Pets of the Homeless provides pet food to homeless and disadvantaged in communities across the US and Canada. Veterinary care is provided to pets that belong to the homeless. Sleeping crates are shipped to homeless shelters that will allow pets.
Carson City, NV (PRWEB) April 01, 2012
Volunteers for Pets of the Homeless have recently been hard at work in the Sun Belt, partnering with local veterinarians to bring medical care to the pets of the less fortunate. In Florida, a volunteer for Pets of the Homeless encountered and contacted the national headquarters of the non-profit to get assistance for Paco, a Pomeranian living with his owner in a van behind a Florida Wal-Mart. Paco was in need of extensive dental work, and after contacting Community Animal Hospital of Royal Palm Beach, Fla., Dr. Randall Dugal performed dental surgery and administered vaccinations to little Paco. Dr. Dugal generously discounted nearly 50 percent from the more than $1,000 bill. Paco is now recuperating back with his owner.
A continent away in San Diego, Calif., Pets of the Homeless was at work again. Dee Dee, a cat living in a tent with her owner suffered a broken leg. A volunteer with Pets of the Homeless contacted Pet Hospital of North Park in San Diego. The hospital performed Dee Dee's surgery and generously discounted more than $1,000 off the bill. The volunteer has kindly agreed to foster Dee Dee until she is fully healed.
Volunteers and veterinarians have charitably donated their time and offered discounts on veterinary services; however, the need for donations is ever present. Homelessness in the United States is as critical a dilemma as ever and many of the nation's homeless care for animal companions. The need for pet food, vaccinations, surgeries, as well as spaying and neutering is massive, so time is critical. Anyone interested in joining the fight are urged to go to: petsofthehomeless.org to join, or for more information, email at info(at)petsofthehomeless(dot)org.