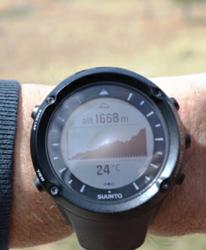 The FuseSpeed technology that uses accelerometer and GPS to make for more accurate readings during sudden accelerations
Bozeman, MT (PRWEB) April 02, 2012
The Suunto Ambit GPS watches arrived in late March at the Heart Rate Watch Company and the initial impressions were quite good. The Suunto Ambit is definitely more rugged than any other GPS watch ever made and the way they hid the rechargeable battery extension inside the strap was brilliant.
"The altitude graphs, heart rate, speed, distance, barometer and compass were all very spot on with Suunto Ambit" says Rusty Squire, President of the Heart Rate Watch Company. He continues, "The FuseSpeed technology that uses accelerometer and GPS to make for more accurate readings during sudden accelerations is the real deal - we tried it out."
The Suunto Ambit allows the user to select between exercise and navigation. With navigation the way point markings and 3-D compass were the most precise for
navigation purposes that the testers at Heart Rate Watch Company had ever tested.
"The Suunto Ambit's graphic elevation charts and super accurate barometric altimeter also make for much more accurate altitude readings than GPS based altitude" states Squire. He continues, "All in all this watch was very impressive and I definitely plan on getting one for myself because it seems great for skiing, mountaineering, hiking, cycling and a vast array of outdoor sports."
If there is a downside to the Suunto Ambit it would be the size might be a bit too large for many women. The Suunto Ambit also does not connect to the Suunto foot pod for cadence but it is possible that a future firmware update could easily correct this issue.
The GPS acquisition time was literally a matter of a few seconds which means the newer generation chip sets are faster than ever before. When the watch is set to one second recording intervals, which would be used for cycling, it will last about 18 hours on a charge. At 1 minute recording intervals, which might be used for mountaineering, it can last up to 50 hours.
The Suunto Ambit also allows you to change between a black and white face display. This feature allows you to set the watch face to black for dress use indoors and then white for better outdoor resolution.
"Seeing your precise distance, heart rate, altitude and being able to see barometric pressure changes are all key to a sustained summit effort or a long bike ride" says Squire.
The new Suunto Ambit looks poised to be one of the best outdoor explorer watch releases to date.