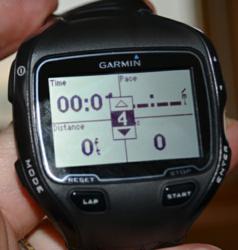 With its ability to receive ANT+ power and a new barometric altimeter the Garmin 910XT has truly evolved the standard for GPS watches for triathlon
Bozeman, MT (PRWEB) April 03, 2012
The Garmin Forerunner 910XT GPS watch recently got put through the paces by the test team at Heart Rate Watch Company and the results were a new #1 watch for triathlon athletes. Garmin 910XT now has some real competition for ultra runners and mountaineers from the Suunto Ambit but the Suunto Ambit lacks the swim functions and won't do ANT+ for power output, so for triathletes the Garmin Forerunner 910XT wins hands down.
"The swim functions of lap and stroke count add a new dimension to the Garmin Forerunner 910XT and the quick release strap is a must have accessory" says Rusty Squire, President of the Heart Rate Watch Company. He continues, "With its ability to receive ANT+ power and a new barometric altimeter the Garmin 910XT has truly evolved the standard for GPS watches for triathlon."
With the advent of the new Garmin Vector power pedals due out in June the Garmin 910XT will even allow triathletes to measure left/right power balance for the first time. The Garmin Forerunner 910XT has the ability to gather every major cycling metric - power, speed, distance, heart rate, cadence, altitude, inclination and much more.
The Garmin 910XT quick release kit allows the watch to be quickly transitioned to and from a bike mount for extra fast transition times. Make sure to use an ultra-sound or electrolyte gel with the Garmin soft strap as this will help it pick up your heart rate better because it has a much higher viscosity than water, which evaporates.
"If there is any downside to the Garmin Forerunner 910XT it is that the watch has so many features and screens that there is a learning curve" says Squire.
Garmin 910XT works well for running, swimming and virtually any outdoor sport to combine great metrics capabilities with the incredible maps that Garmin delivers in their Garmin Connect software. For individuals requiring greater than 8 hours of battery life in a single use then the Garmin Forerunner 910XT is the go to choice in the watch line.
The Garmin 910XT has been awarded the best new triathlon watch for 2012 by the Heart Rate Watch Company. Congratulations to Garmin on the new Garmin Forerunner 910XT.