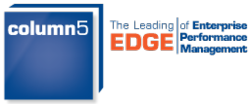 Column5's unrivaled depth of experience enables us to produce and deliver the world's most comprehensive EPM content.
(PRWEB) April 03, 2012
Column5 has launched its new website Column5.com which features The Edge, a one-stop portal for global access to the best of EPM education, information and resources.
"Column5's unrivaled depth of experience enables us to produce and deliver the world's most comprehensive EPM content," said David Den Boer, Column5's founder and CEO. "Our mission is to deliver exceptional organizational effectiveness for our clients and the release of this expanded content is the first step in becoming a trusted partner."
According to a recent prediction by Gartner in their Predicts 2012: Skills Gap is the Biggest Challenge in Leveraging New Opportunities in Analytics and Performance Management report published in December 2011, "Over half of the investments made by companies in analytics tools will be wasted, because of cultural immaturity, a lack of required skills and inappropriate training levels."
Den Boer concludes, "Column5 is committed to contributing the critical knowledge to the SAP Ecosystem to prevent Gartner's prediction from becoming a reality for our clients." We encourage all SAP EPM users to benefit from our blog, EPM Education Center at conferences, webinars and all our content that is the culmination of many years' work with these products."
Most companies recognize the value of an EPM Center of Excellence, but aren't able to focus the internal resources required to research and apply new processes, optimize technical tools, and fine tune their approach to performance management. Column5's EPM content helps fulfill this need with the latest resources and tools now available on their new website.
New EPM content and website features include:

Free, weekly EPM webcasts
Weekly blog articles and discussion forum
Conference updates and where to find the Column5 EPM Education Center
Webcast library that gives you access to recorded, past events
Column5's iPad Application and Business Case Builder access
Breaking news, information and demonstrations on EPM 10
Demonstration videos of EPM products
Live link to online EPM support and solutions database
Additional training options
"Having just recently presented over 80 EPM-related sessions in Column5's EPM Education Center at SAPInsider's BI and Financials conferences has confirmed the need in the marketplace for expanded content," said Steve Sussman, Column5's Vice President of Sales and Marketing. "As enterprise performance management (EPM) evolves to meet the ever-changing needs of global, competitive organizations, it is more important than ever that companies have the research and educational tools available to ensure that they are achieving maximum return on their EPM investments."
Column5's new website welcomes visitors with bold new colors, a clean, uncluttered design and intuitive navigation that features shortcuts to related information and improves the user experience.
About Column5
Column5 is the world's leading-edge consulting firm dedicated to providing high-value services that help customers leverage the power of SAP's Enterprise Performance Management product suite. Column5 was founded in 2005 by key players from OutlookSoft, and quickly evolved into a global team of experts who are uniquely qualified to properly design and deliver comprehensive systems, addressing a wide range of industry and process-specific requirements. Column5's custom tailored solutions combine proven software with unparalleled technical skills and visionary enterprise performance management process expertise to deliver prompt return on investment, long-term independence and a competitive edge for our elite list of discerning clients. Additional information is available at http://www.column5.com.