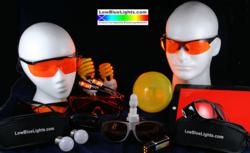 Proof that the once benign use of ordinary light before bedtime poses an actual health risk has the lighting community understandably concerned.
University Heights, OH (PRWEB) April 04, 2012
Researchers at the Surrey Sleep Research Centre at the University of Surrey, UK recently published a study1 showing nighttime light exposure affects the human biological clock and disrupts sleep quality by suppressing the hormone melatonin. A significant finding was that the spectral composition - the actual color of light - not only contributed to the level of deep sleep but also the time taken to reach such a level. Researchers focused on blue-sensitive photoreceptors within the retina of the human eye which in turn controls the brain's pineal gland. They discovered that when these photoreceptors were exposed to nighttime blue light the pineal gland suppressed the production of melatonin. Previous evidence has shown that natural melatonin production is vital not only to quality sleep but in maintaining one's overall health through the prevention of certain types of cancer and Type 2 Diabetes2,3 . Years before this study was published a team of scientists at John Carroll University developed special light bulbs that do not produce the blue wavelength responsible for melatonin suppression and eyeglasses that block this detrimental blue light. Information about these products and research supporting their use are available at http://www.LowBlueLights.com.
The University of Surrey study which was funded by the Phillips Lighting Company UK, the world's largest light bulb manufacturer, is a strong indication that lighting manufacturers are beginning to recognize the impact their products have on consumer health. Luc Schlangen of Phillips Lighting and co-author of the paper stated, "The study findings show us that an optimized and more sleep-friendly definition of the indoor light environment in the evenings is desired. There is a growing need to engineer artificial light to minimize its disruptive effect." Proof that the once benign use of ordinary light before bedtime poses an actual health risk has the lighting community understandably concerned. The Surrey researchers concluded that by using lights with minimal blue content the disruptive effects of nighttime light can be minimized.
In 2005, three John Carroll University physicists formed the spin-off company Photonic Developments LLC to market no-blue light bulbs and sleep glasses after their own research showed nighttime blue light has a negative effect on sleep. Special blue-blocking filters for televisions, computer screens and other electronic devices were also developed and are now available through their website. Thousands of satisfied customers have found substantial benefits by using products from LowBlueLights.com with the guarantee they will be fully refunded if their sleep is not improved. Ninety percent of customers have found them beneficial. Information about these products along with research and articles supporting their use can be found at http://www.LowBlueLights.com. Join the thousands who have been helped.
For more information or to schedule an interview please contact Dr. Richard Hansler at John Carroll University by email at rhansler(at)jcu.edu or by phone at 216-397-1657.
1The research is published in The Journal of Pineal Research entitled "The spectral composition of evening light and individual differences in the suppression of melatonin and delay of sleep in humans." – Santhi N, Thorne HC, van der Veen DR, Johnsen S, Mills SL, Hommes V, Schlangen LJ, Archer SN, Dijk DJ. J Pineal Res. 2011 Sep 20. doi: 10.1111/j.1600-079X.2011.00970.x
2J Pineal Res. 2011 Apr 2. doi: 10.1111/j.1600-079X.2011.00888.x. [Epub ahead of print]
Blask DE, Hill SM, Dauchy RT, Xiang S, Yuan L, Duplessis T, Mao L, Dauchy E, Sauer LA.
Circadian regulation of molecular, dietary, and metabolic signaling mechanisms of human breast cancer growth by the nocturnal melatonin signal and the consequences of its disruption by light at night.
3Amélie Bonnefond, Nathalie Clément et al, "Rare MTNR1B variants impairing melatonin receptor 1B function contribute to type 2 diabetes."
Nature Genetics 44, 297–301 (2012) doi:10.1038/ng.1053