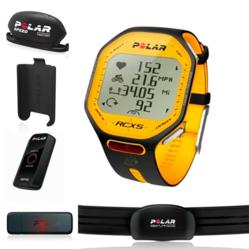 This heart rate monitor is great for cycling, swimming, inline skating, running and can handle anything you throw at it
Bozeman, MT (PRWEB) April 05, 2012
The Polar RCX5 Tour de France G5 GPS Limited Edition is due out in April of 2012 at Heart Rate Watch Company but it will only be available for a few short months until September and then it is gone. This watch is the official training computer of the 2012 Tour de France.
The Polar RCX5 Tour de France G5 includes a G5 GPS sensor that allows for mapping data as well as speed and distance for outdoor sports. This version also includes the Hybrid dual frequency chest strap which picks up heart rate swimming along with the Polar CS WIND speed sensor, a bike mount for the watch and a Datalink stick for data transfer.
"These units are identical to the other Polar RCX5 units in terms of functions and features but the Tour de France colors look really good on this model", says Rusty Squire, President of the Heart Rate Watch Company. He continues, "The Polar RCX5 Tour de France G5 opens up a multi-sport market beyond the bike unit that was originally announced a few weeks back."
There is literally no outdoor sport that a person could not do with the Polar RCX5 Tour de France G5 thanks to its small G5 GPS sensor, speed, distance and mapping capabilities. "This heart rate monitor is great for cycling, swimming, inline skating, running and can handle anything you throw at it outdoors" says Squire.
The limited availability of the Polar RCX5 Tour de France G5 GPS makes it essential this watch is ordered early because they are only being produced in a very limited quantity.
Heart Rate Watch Company tested the Polar RCX5 last summer and found it to be one the most versatile heart rate monitors ever introduced and certainly the only one that gets accurate heart rate data while swimming. The Polar RCX5 Tour de France G5 GPS has the battery power to last well over 20 hours which is much longer than most GPS watches which creates another advantage - exercise more and charge less.
Polar RCX5 Tour de France G5 GPS offers outdoor athletes a great option for heart rate monitoring, speed, distance and other functions to enjoy for the 2012 season and beyond.