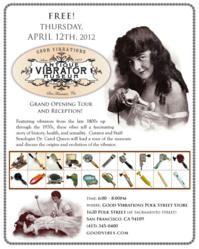 "The new exhibit contextualizes the vibrators' role in society and highlights how our attitudes around sex and female pleasure have evolved." - Dr. Carol Queen, Staff Sexologist and museum curator
San Francisco, CA (PRWEB) April 04, 2012
Dr. Carol Queen explains, "We are delighted to showcase our collection in a dynamic, historic, and entertaining display at our Polk Street retail location. The new exhibit contextualizes the vibrators' role in society and highlights how our attitudes around sex and female pleasure have evolved. It really gives us an appreciation for how far both society and technology have come, and it's fitting to house the exhibit in the original female-friendly adult retail store."
Outside the museum, some of the antique vibrators from the turn of the century can be seen in the new film "Hysteria," a major Hollywood film starring Maggie Gyllenhaal and Rupert Everett in a Victorian-era romantic comedy set around the creation of the vibrator. Good Vibrations is co-presenting the San Francisco premiere as part of the S.F. International Film Festival on May 1st at Sundance Theatres Kabuki in San Francisco.
Those on the East Coast can see a few select antique vibrators up close at Boston University's production of "In the Next Room: The Vibrator Play," a period drama that also uses the invention of the vibrator as a catalyst for the story. Having supported the production in Berkeley, Good Vibrations will help kick off the production by Boston University's Stage Troupe on April 12th with a display and raffle of more contemporary items.
Highlights of the collection from the late 1800s up through the 1970s and can be seen online at http://antiquevibratormuseum.com along with an extensive history of their development and marketing.
The history of the vibrator is a fascinating one, and Good Vibrations gladly sheds light on the unlikely origins of its industry. The electric vibrator had its inception in 1869 with the invention of a steam-powered massager, patented by an American doctor. This device was designed as a medical tool for treating what was called "hysteria," or "female disorders." Within 20 years a British doctor followed up with a more portable battery-operated model; by 1900, dozens of styles of electric vibrators, just like those in our exhibit, were available to the discriminating medical professional.
Physicians employed vibrating devices in the treatment of "hysteria," which they viewed as the most common health complaint among women of the day. Hysteria was a medical term developed to describe a woman's display of mental or emotional distress, behavior then considered a disease in need of treatment. Though the existence of hysteria as a disease was debunked by the American Psychiatric Association in 1952, medical experts from the time of Hippocrates up to the 20th century believed that hysteria expressed the womb's revolt against sexual deprivation. Genital massage was a standard treatment for hysteria; its objective was to induce "hysterical paroxysm" (better known as orgasm) in the patient. Such treatment demanded both manual dexterity and a fair amount of time, so turn-of-the-century physicians were delighted with the efficiency, convenience and reliability of portable vibrators. In light of hysteria's historical legacy, we can see that classifying hysteria as a disease was a refusal to acknowledge female sexuality as a human trait on par with male sexual functioning, as well as a refusal to recognize orgasm as a normal function of female sexuality.
Health, Vigor and Beauty
The vibrator was later marketed as a home appliance in women's magazines and mail order catalogs. Ads proffering "health, vigor and beauty" promoted the vibrator as a health aid. By the 1920s, doctors had abandoned hands-on physical treatments for hysteria in favor of psychotherapeutic techniques. But vibrators continued to have an active commercial life in which they were marketed (much like snake oil) as cure-alls for ills ranging from headaches and asthma to "fading beauty" and even tuberculosis!
The ad copy for these vibrators was coy and ambiguous. "Be a glow getter," one package insert suggests. And who wouldn't be tempted to experience "that delicious, thrilling health-restoring sensation called vibration," when assured that "it makes you fairly tingle with the joy of living?" The vibrator's usefulness for masturbation was never acknowledged; however, as vibrators began appearing in stag films of the 1920s, it became difficult to ignore their sexual function. Eventually advertisements for vibrators gradually disappeared from respectable publications.
A Superior Sex Toy
To this day, electric vibrators are marketed solely as massagers -- and battery vibes as novelties -- while manufacturers steadfastly ignore their sexual benefits. Vibrators are now a big business; they are sold through drug stores, department stores and even the Sears catalog! The staff at Good Vibrations dream of the day when all vibrators are proudly promoted as the superior sex toys they are. After all, as a vintage advertisement claims, "almost like a miracle is the miraculous healing force of massage when rightly applied."
Event details: Antique Vibrator Museum grand opening: Thursday, April 12th 6 - 8 p.m. at 1620 Polk Street in San Francisco. Thereafter the museum will be open during store hours at the Good Vibrations Polk Street Store.
About Good Vibrations
Good Vibrations is the premier retailer trusted since 1977 to provide high quality products, education, and information that promotes sexual health, pleasure, and empowerment. We invented the concept of the clean, well-lighted vibrator store and we're proud to provide a safe and welcoming environment where customers can shop for sex toys, books, movies, and attend workshops. Visit http://www.goodvibes.com for details and store locations.