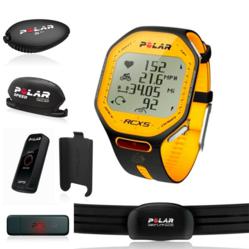 Running, mountain biking, inline skating, skiing and virtually every outdoor sport imaginable gets covered by this bundle
Bozeman, MT (PRWEB) April 06, 2012
The Polar RCX5 Tour de France Premium Bundle offers triathlon and multi-sport athletes a heart rate monitor for measuring virtually all outdoor sports metrics according to the Heart Rate Watch Company. This heart rate monitor has been named the official training computer of the 2012 Tour de France and will be available from mid-April through September 2012.
"This Polar RCX5 Tour de France Premium bundle offers up all of the measurement accessories required for triathlon" says Rusty Squire, President of Heart Rate Watch Company. He continues, "Running, mountain biking, inline skating, skiing and virtually every outdoor sport imaginable gets covered by this bundle and the TDF colors are nice."
The Polar RCX5 Tour de France Premium Bundle includes the RCX5 wrist unit, Hybrid chest strap, Datalink transfer stick, G5 GPS sensor and holding clip, the S3-plus foot pod, and a Polar CS Speed sensor. About the only possible accessory one might add to this bundle is a Polar CS WIND cadence sensor for pedal cadence while cycling.
The Polar Wearlink Hybrid chest strap broadcasts at both 2.4 mHz and 5 kHz meaning that it can push a heart rate signal to the wrist unit while swimming. Polar's WIND technology insures that there is no electromagnetic interference with the transmission from device accessories.
"Polar invented the heart rate monitor and has consistently produced reliable products for nearly four decades" states Squire. He continues, "The quality of their heart rate data, calorie accuracy and component quality is unsurpassed which is why so many professional athletes use Polar."
The new S3-plus foot pod has a better shoe clasp and provides more accurate data on stride, cadence and distance then ever before making the Polar RCX5 Tour de France Premium Bundle a real force to be reckoned with in the world of outdoor athletes.
For multi-sport athletes and triathlon competition the Polar RCX5 Polar RCX5 Tour de France Premium Bundle is sure to please with measurement capabilities for nearly all outdoor sports.