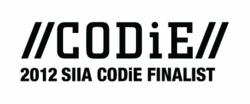 Vizu's Ad Catalyst solution really reflects the excellence and innovation in the business software industry.
- Rhianna Collier, Vice President of the SIIA Software Division
San Francisco, CA (PRWEB) April 04, 2012
Vizu Corporation, an online ad technology company whose solutions allow advertisers and publishers to measure and optimize Brand Lift in real-time, today announced that the Software & Information Industry Association (SIIA), the principal trade association for the software and digital content industries, has named Vizu's Ad Catalyst as a finalist for its 27th annual CODiE Awards for Best Marketing/Public Relations solution. The winners will be announced on Thursday, May 10, at the CODiE Awards Presentations held in conjunction with the SIIA's annual All About the Cloud conference.
The SIIA CODiE Awards recognize excellence in the business software, digital content, and education technology industries. Nominated products were extensively reviewed by executives with deep industry expertise who acted as judges to select the finalists. The Best Marketing/Public Relations category recognizes the best solution for management of customer, promotional, or media communications.
"Our selection as a finalist for a CODiE is great validation that we've created a solution which is reshaping the way the industry conceives of online brand advertising effectiveness measurement and optimization," said Dan Beltramo, CEO of Vizu. "This nomination recognizes that we've enabled something that was never before possible. Beyond pioneering real-time ad effectiveness, now, for the first time, all parties with a stake in an advertising campaign's outcome can log into a single technology platform to track and optimize performance against classic Brand Lift metrics. Real-time data is now paired with real-time collaboration to drive the best possible outcomes."
"Vizu's Ad Catalyst solution really reflects the excellence and innovation in the business software industry," said Rhianna Collier, Vice President of the SIIA Software Division. "All of this year's CODiE Awards finalists should feel proud of making it to this stage."
"Hundreds of the world's leading marketers, media agencies, and media properties are using Vizu's technology platform to better understand the true return on their online advertising investment, and it's great to be recognized for this innovation," added Beltramo.
Ad Catalyst measures the Brand Lift generated by online advertising campaigns, replacing click-through rates with a much more appropriate metric for brand advertisers. As Brand Lift data is available in real-time, it also enables in-market optimization of campaigns. Leveraging an intuitive dashboard, the contribution of different creative, messages, targeting, and frequency to overall campaign performance can quickly be evaluated and adjustments made that ensure both Brand Lift and return on advertising spend are maximized.
To view the complete list of finalists, visit: http://siia.net/codies/2012/finalist_list.asp
Vizu Corporation (http://www.brandlift.com) brings the same metrics used to measure and optimize brand advertising effectiveness in the offline world to the online medium. By providing the first real-time, enterprise technology platform that allows brand advertisers and their partners in the digital media ecosystem – publishers, ad networks, exchanges, and demand side platforms – to collaborate around measuring and optimizing Brand Lift metrics, Vizu enables its customers to move their target audience through the purchase funnel, from building awareness to creating intent and preference. Vizu's brand advertising effectiveness platform is used by over 60% of Advertising Age's Top 100 Brand Advertisers and Top 50 Media properties to support all key aspects of the advertising lifecycle, including media buying, audience profiling, and Brand Lift optimization.
The Software & Information Industry Association (SIIA) is the principal trade association for the software and digital content industry. SIIA provides global services in government relations, business development, corporate education, and intellectual property protection to more than 500 leading software and information companies. The SIIA Software Division provides a forum for companies developing the applications, services, infrastructure and tools that are driving the software and services industry forward. For further information, visit http://www.siia.net/software