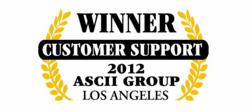 Boston (PRWEB) April 04, 2012
Intronis, the world's leading cloud backup and recovery solution for the IT Channel, today announced that the company won its second Best Customer Support Award in 2012 at the ASCII Success Summit in Los Angeles.
Members of the ASCII Group, the world's largest IT solution-provider community, voted Intronis their selection for Best Customer Support at the conclusion of their annual regional summit in Los Angeles. Earlier this year, ASCII members who gathered in Orlando similarly honored the company with a Best Customer Support Award at their regional summit. Intronis is also proud to be ASCII's 2011 Vendor of the Year, which recognizes the firm's commitment to helping ASCII members grow their revenue and more effectively serve their customers.
"Goal-oriented MSPs know that when that they call Intronis tech support, their call will be answered fast, and they'll get a solution just as fast," said Ted Roller, vice president of channel development at Intronis. "We achieve our highest goals when our tech support team becomes an integral and dependable part of our partners' organizations."
About the ASCII Group
The ASCII Group, Inc., headquartered in Bethesda, Maryland, was established in 1984, with additional offices in Canada and the UK. ASCII is the largest paying community of independent computer solution providers in the world with more than 2,000 members and system wide end-user sales of approximately $10.5 billion. ASCII provides technology tools, products and services to assist independent information technology resellers increase profits, reduce costs, and grow their respective businesses. For more information, please visit http://www.ascii.com or http://www.asciievents.com for more information on the ASCII 2012 Success Summits.
About Intronis
Intronis Cloud Backup and Recovery is a world-class cloud backup solution for the IT channel. Intronis provides the industry's easiest to use secure data solution for offsite and local backup, which generates a monthly recurring revenue stream to add to your business. Intronis offers the best, deepest Exchange and SQL backup on the market, U.S.-based customer support, and is also integrated to major solutions in the MSP ecosystem. The solution has been field tested by thousands of MSPs and the industry spoke by awarding Intronis the 2011 Vendor of the Year from ASCII. http://www.intronis.com.