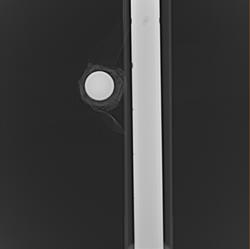 Vidisco's CEO Ari Diamond noted: "Vidisco takes pride in being chosen to deliver an overview talk covering both our areas of expertise – Digital Radiography in the Security and NDT fields - at this major international NDT event. At Vidisco we strive to be
(PRWEB) April 12, 2012
Vidisco Executive Vice President Lior Pick will speak at the upcoming 18th WCNDT Conference about an automatic software process enabling easy and accurate Wall Thickness Measurement, while overcoming several related challenges. It serves as a user-friendly, optimal tool when using Tangential or Double Wall Techniques. The main contribution lies in the development of automatic processes which eliminate the user's need to mark the measurement points manually. These automatic processes ensure consistent replication of the measurements even when they are performed at different times and by different users.
These automatic Wall Thickness Measurement Techniques are now available as part of Vidisco's proprietary XbitPro software, which is an integral part of all of Vidisco's portable Digital Radiography systems.
The lecture on this topic, called "Wall Thickness Technologies Using Digital Radiography," will be presented on Wednesday, April 18 from 11:30 to 11:50, at meeting room 21A.
Ron Pincu, Vidisco's leading NDT expert, was invited to deliver an overview talk at the WCNDT Conference on the topic of: "A Review of Digital Radiography in the Service of Security." In this lecture, he will offer enrichment and provide examples on how professional know-how acquired during Vidisco's two decades of activity in security digital X-ray has leaked into cutting-edge NDT field techniques. The lecture is scheduled for Tuesday, April 17, from 10:50 to 11:10 at Hall 1AB.
Vidisco's CEO Ari Diamond noted: "Vidisco takes pride in being chosen to deliver an overview talk covering both our areas of expertise - DR in the Security and NDT fields - at this major international NDT event. At Vidisco we strive to be the industry leader producing innovative, exciting and unique x-ray solutions for compact, fully battery operated and portable DR including such options as our long range wireless, one case or backpack packaging, and fully automated Wall Thickness Measurement Techniques."
To see Vidisco's advanced line of Portable Digital Radiography Systems, visit us at Booth no. 33 and 34.
Vidisco:
Vidisco Ltd. is a leading designer and manufacturer of state-of-the-art Digital Radiography systems. The company was founded in 1988. Vidico was the first company to offer portable digital radiography in the form of a PC-based X-ray inspection system packed in a single suitcase. The company currently employs a staff of forty.
For more information, please contact NDT(at)vidisco(dot)com. Visit our website at: http://www.vidisco.com