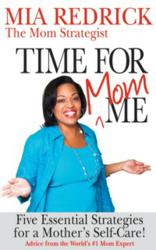 Redding, CA (PRWEB) April 07, 2012
Mia Redrick, The Mom Strategist and CEO of Finding Definitions, LLC has partnered with Great Harvest Bread Company in an effort to reach out to one million moms and help them practice better self-care.
Redrick has been helping organize Time for Mom Me support groups for years and has helped thousands of moms with personal growth, knowing that these women become better mothers when they practice self-care.
Redrick, author of the best-selling guide to mother's self-care, Time for Mom Me: 5 Essential Strategies for Mother's Self-Care, has made it her mission to help moms take better care of themselves and, with the help of Great Harvest Bread Company, they can find a support group with all of the tools for successful self-care here in Redding.
The Time for Mom Me program consists of 6 sessions, corresponding with Redrick's strategies of finding time, finding meaning, finding connections, finding solutions, personal growth, and the blueprint of motherhood. Moms will agree to meet once a week based on their availability for guided discussion to help moms incorporate self-care, which, as part of the program, are provided at no cost by Redrick's online videos and fun interactive programs.
Mom support groups are provided with a complimentary copy of Redrick's best-selling book, complimentary beverages and whole grain sweets provided by Great Harvest Bread Company during scheduled meetings, reserved seating at the Redding Great Harvest Bread Company location, and an online guide to successful self-care with free access to an online community of supportive moms. All that is required is that a mom interested in hosting a group registers at timeformom-me.com.
Beyond that, moms will find a group of like-minded, supportive potential new friends and moms who understand their needs. One of the pillars of self-care is a support group that encourages camaraderie, accountability, sharing, encouragement, and solutions.
Interested moms can find the location and meeting times of their local Time for Mom Me group at http://www.timeformom-me.com or they can start their own.
Redrick and Great Harvest Bread Company know that being a mom is the toughest job in the world. They appreciate moms and to kick off the New Year, their goal is to make motherhood a more fulfilling experience and to reward moms for taking care of themselves with a comfortable atmosphere and great, healthy food.
Originally founded in 1976 in Great Falls, Mont., Great Harvest has more than 200 bakeries located throughout the nation including Alaska and Hawaii. All bakeries are locally owned and operated, and no two are alike. Great Harvest is known for handcrafted breads made with freshly ground whole wheat purchased from family-owned farms. The neighborhood bakeries create an array of legendary fresh baked breads and sweets, as well as specialty items during the holidays. Great Harvest mills its whole wheat daily. The fresh flour is used within two days to guarantee the best taste and nutritional value.