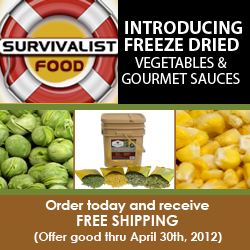 This unique and incredible packaging allows for easy storage and gives the food a 25 year shelf life.
Farmington, UT (PRWEB) April 11, 2012
Survivalist Food adds New Wise Survival Food including Freeze Dried Vegetables, Fruit & Meat to its Line of Emergency Food Storage Products
Survivalistfood.com recently introduced three great new survival food options to its line emergency food storage products, which include freeze dried vegetables, fruit, and meat. In addition to the popular Wise Company freeze dried food meal kits, these new product lines provide additional options for emergency food storage. These new survival products are perfect compliments to the Wise pre-made entrees that are now considered a survival kit staple.
Wise Company assorted freeze dried vegetables, freeze dried fruit and freeze dried meat are packaged in individual Mylar pouches, and then encased in durable plastic containers thus preserving food and eliminating waste. This unique and incredible packaging allows for easy storage and gives the food a 25 year shelf life. Free storage buckets are also included with every prepared meal serving package.
Only after careful consideration did Wise Food Company select the highest quality vegetables, fruits and meat used the new line of emergency food, which are second to none from a taste and nutritional perspective. With a variety of great tasting emergency food storage, Wise food customers don't dread having to eat their food storage, but rather they enjoy eating it.
To highlight one of these three new products, Wise specialized Freeze Dried Vegetable and Gourmet Flavored Sauce combo pack has been uniquely designed so that each individual vegetable can mixed and matched with shelf stable cheese, cream, mushroom, and butter sauces. This process, not only enhances the flavor and enjoyment of the vegetables, but also significantly boosts the calorie and nutritional content of each serving. In turn, consumers will receive more energy when it is needed most.
Each pouch of freeze dried vegetables can be added to much more than an emergency preparedness supply. Now high quality vegetables and sauces can be enjoyed while camping, hunting, hiking or even everyday use like last minute dinner ideas.
Some of the key advantages of Wise survival foods are:

Extended Shelf Life — Up to 25 years under ideal storage conditions.
Great Taste — To ensure optimal taste, texture, and nutritional value, Wise vegetables can be uniquely seasoned with Wise Company shelf stable cheese, cream, mushroom, and butter sauces.
Freeze Dried — Unlike dehydrated foods, Wise Freeze Dried Vegetables retain color, texture, flavor, and most importantly nutrition.
Nitrogen Packed Mylar Pouches — Removes the majority of the oxygen residual in each pouch, ensuring optimal taste and shelf life.
Simple to Prepare — Just add hot water and within minutes fresh, real, vegetables and gourmet sauces can be enjoyed.
Lightweight and condensed — No need to lug #10 Cans around and be forced to consume large amounts of food in a very quick fashion once opened. Wise Freeze Dried Vegetables come packaged in 8 serving Mylar packets and are stored in a grab and go plastic container .
Easy Transport — Grab and Go individual container makes it easy to get up and go in case of emergency.
Start preparing now with the new Wise Freeze Dried Vegetables, Fruit and Meat emergency food sold at SurvivalistFood.com. Peace of man can be enjoyed knowing that survival food is available for any emergency with the highest quality and best tasting emergency food available.
Survivalist Food also ships world-wide, including to military addresses, AK, HI, VI, PR, Canada, and most countries around the world including Australia, Japan, China, UK, Europe, and Asia.