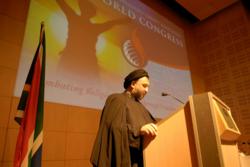 The future of religious freedom as a universally acknowledged, fundamental human right is looking less certain.
Washington, D.C. (PRWEB) April 10, 2012
Religious freedom protection "isn't what it used to be," say organizers of this month's 7th World Congress for Religious Freedom in Punta Cana, Dominican Republic. The three-day event, beginning April 24, will draw regional government leaders, as well as a diverse international group of government officials, NGO representatives, jurists, religious leaders, scholars, and religious liberty advocates.The event comes as new studies show that global restrictions on religious freedom are on the rise. The congress will focus particularly on the theme "Secularism and Religious Freedom—Conflict or Partnership?" which highlights an area of increasing concern for religious liberty advocates.
"Historically, a secular government, which doesn't play 'religious favorites,' is one of the best guarantees of religious freedom," says John Graz, Secretary General of the Washington, D.C.-based International Religious Liberty Association, which is sponsoring the event. "But today's global environment is radically different to the world of 1948 that gave birth to Article 18 of the Universal Declaration of Human Rights and established religious freedom as a cornerstone human right."
According to Graz, the future of religious freedom as a universally acknowledged, fundamental human right is looking less certain, and among the forces he cites as contributing to this trend are:

Increasing public sensitivity to religious extremism and religiously motivated violence.
The growing impact of postmodernism, which casts religion as just another "special interest group" within a milieu of competing moral and social voices.
A trend toward limiting religious expression on the grounds of "protecting secularism"—such as the 2011 "burqa ban" for Muslim women in France.
Among the 800 people traveling to the 7th World Congress are government officials from the United States, the Caribbean and South and Central America; eminent jurists from the Middle East and Europe; and scholars and human rights activists from around the world.
The event is organized and sponsored by the International Religious Liberty Association—a non-sectarian organization chartered in 1893 and dedicated to defending and promoting freedom of religion for people of all faiths. The IRLA has non-governmental organization consultative status at the United Nations, and affiliates and partner associations in 80 countries. The IRLA is the world's oldest association for defending religious freedom, and its primary focus is to organize symposiums, conferences, and seminars; to work with legislators, governments, and religious leaders; and to assist victims of religious intolerance.