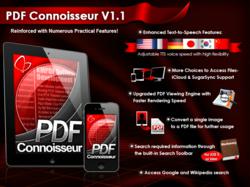 PDF Connoisseur a powerful blend of features that aim to optimize users' workflow and productivity.
Tainan, Taiwan (PRWEB) April 11, 2012
Kdan Mobile has launched a huge sale for both the iPhone and iPad versions of its high-end business application, PDF Connoisseur. The app has just been updated with enhanced Text-to-Speech features, easier cloud access, optimized file rendering speed, enhanced image management, and convenient reference tools. According to the company, the latest versions of PDF Connoisseur have set up a high standard for all iOS business apps.
The new update has upgraded the Text-to-Speech feature to support three Asian languages including Chinese, Japanese, and Korean in order to serve a wider international user base. In addition, users are able to adjust the voice speed or set up the default language according to their liking. "Text-to-Speech not only enables you to utilize both the eyes and the ears to handle multiple tasks at a time, but it also allows you to count on your hearing to absorb information and relieve your eye strain," said Erwin Lin, CTO of Kdan Mobile.
To facilitate mobile working, the developer has integrated iCloud and SugarSync to PDF Connoisseur and redesigned its file access interface to allow multiple account login. This new interface not only quickens file exchange among different parties but also enables its users to experience real-time collaboration on their mobile devices. "We're certain that PDF Connoisseur is the ultimate solution for mobile business users," said Kenny Su, CEO of Kdan Mobile. He carried on, "It is a powerful blend of features that aim to optimize users' workflow and productivity."
Currently, the company is celebrating its third year anniversary with a huge sale on all of its products, and PDF Connoisseur is now half-price for a limited time until April 12. "Three year is a big milestone for Kdan, especially when we look at our popularity and various honors," remarked Su. "We would like to take the chance to thank those who have supported us along the way."