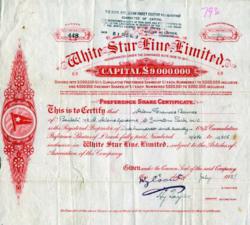 The sinking of the titanic was the news story of the century.
(PRWEB) April 09, 2012
Scripophily.com / Old Company Research is offering historical documents for sale from affiliated companies associated with the RMS Titanic. These documents include stock certificates from the International Mercantile Marine Company, White Star Line, Limited, RMS Titanic, Inc., the Cunard Steam Ship Company, and the Marconi Wireless Telegraph Company.
This International Mercantile Marine shipping trust was formed in 1902 by J.P. Morgan. This company controlled the White Star Line which constructed three sister ships the Olympic, Titanic, and Britannic. Each of these ships was identical in size being 882 1/2 feet long and 92 1/2 feet wide. The Titanic sunk on its maiden voyage on April 15, 1912, after striking an iceberg at 11 20 p.m. on April 14, 1912. In 1934, The White Star Line and the Cunard Line merged together forming Cunard White Star, later to be called Cunard. Once the ship struck the iceberg, urgent calls were being sent using the relatively new Marconi Wireless Radio System.
Certificates for sale include ones with an image of a sister ship to the Titanic, one with the names of the Voting Trustees (J. P. Morgan, W. J. Pirrie, J. Bruce Ismay, Peter A. B. Widener and Charles Steele) printed on the face. We also have one issued to and signed by Trustee and Shipbuilder, William James Pirrie in 1906, one signed by Baron Kylsant who was later jailed for larceny, one issued to Edward Charles Grenfell (Famous Banker), one with the original signatures of Philip A.S. Franklin who served as the American vice-president of IMM at the time of the Titanic's maiden voyage and sinking in 1912, and later became the company's president. We also have a certificate from RMS Titanic, Inc. with picture of the sunken Titanic Ship on the Certificate, and a certificate from the Marconi Wireless Telegraph Company.
"We are very pleased to offer this unique selection of Titanic related memorabilia on our website," said Bob Kerstein, Founder of Scripophily.com and Old Company Research. "Titanic related material has been one of our best sellers over the years," Kerstein added.
Scripophily.com - The Gift of History is the internet's leading buyer and seller of collectible stock and bond certificates, and old stock research at OldCompany.com. The company has had items on display in the Museum of American Finance in New York, an affiliate of the Smithsonian Institution. Scripophily.com has been featured on CNBC, USA Today, Baltimore Sun, and Washington Post and in many other media publications.. Our online store has over 17,500 selections including categories such as Frauds, Scandals, Bankruptcies, Dot Coms, as well as the traditional American industries.
The Old Company Research Service provides expert services for individuals, banks, attorneys, estates and trusts detailing the company's history regarding name changes, mergers, bankruptcies, and predecessor and successor companies. If the company did survive, OldCompany.com will provide contact information so a determination can be made as to whether the securities have any market value. Old Company Stock Research Service is the successor to the archives, publishing rights and copyrights on obsolete research reference material published by the Marvyn Scudders Manuals, the Robert D. Fisher Manuals, and the Herzog & Co., Inc. obsolete research services, which have been performed continuously since 1880.
Scripophily (scrip-ah-fil-ly) is the name of the hobby of collecting old stock and bond certificates. Values range from a few dollars to more than $500,000 for the most unique and rare. Tens of thousands of Scripophily buyers worldwide include casual collectors, corporate archives, museums and serious collectors.
Scripophily.com and OldCompany.com was founded by Bob Kerstein, a Certified Public Accountant and Chartered Global Management Accountant who has more than 36 years of senior management experience in the Cellular, Cable TV, Satellite, Internet, Professional Sports and Entertainment Industries. Bob is also the President of the Professional Scripophily Traders Association (PSTA).
For more information on Scripophily.com®, visit http://www.scripophily.com/, http://www.oldcompany.com or call 1-703-787-3552.