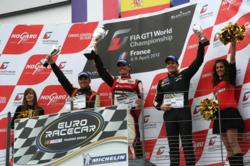 "I have lived in Las Vegas for two years and I forgot what racing in the rain is like," joked Thievin.
Las Vegas, NV (PRWEB) April 09, 2012
Nogaro 200, the first official event of the inaugural season of NASCAR Touring Series EURO-RACECAR, took place this weekend with the co-owner/CEO of Exotics Racing Las Vegas and Las Vegas resident Romain Thievin placing second in the Sprint ELITE race. The race was held on April 7 in Nogaro, France on Circuit Paul Armagnac.
Thievin drove Dodge Challenger #99 on behalf of Still Racing-Exotics Racing. The race cars of EURO-RACECAR are spec stock cars that feature a tubular chassis and fiberglass bodies with V8 engines that generate 450 horsepower and run on green E10 race fuel.
Thievin was a close second in the Sprint ELITE race after Spain's Ander Vilarino (Chevrolet Camaro #2 – TFT-Banco Santander). The race began with Thievin advancing from his second place on the grid to take the lead over poleman Vilarino following the first turn. Thievin tried to improve the gap on a wet track which began to dry mid-race. At the tenth lap on 14, Vilarino overtook Thievin with a later brake at the hairpin of the aerodrome. After a heated door-to-door exchange , Vilarino took the lead to finish first with a gap of 1.543 seconds between Vilarino and Thievin.
"I have lived in Las Vegas for two years and I forgot what racing in the rain is like," joked Thievin. "The start of the race was like a drift race. I had a good car and so I succeed in overtaking Ander and taking the lead. From mid-race, I was less easy with the car. When Ander overtook me he was a bit faster and so it was normal. We touched a little bit, but this is NASCAR. I never gave up because I still targeted the podium. It will be a big fight all year long!" said Thievin.
The Dodge Challenger #99 car was also driven by Exotics Racing Las Vegas co-owner/CEO and Las Vegas resident David Perisset today in two races. Perisset placed seventh overall in the Sprint OPEN race, and was awarded the second place Gentleman Trophy.
Thievin and Perisset will compete in other EURO-RACECAR NASCAR Touring Series events, including the Brands Hatch 200 in England (May 18-20), Spa 200 in Germany (June 8-10) and Tours Speedway 200 (July 7-8) in France.
The EURO-RACECAR NASCAR Touring Series is operated under the supervision of American NASCAR (National Association for Stock Car Auto Racing) officials. Bob Duvall, NASCAR Director, Weekly & Touring Business Development, and Richard Buck, Director of Touring Series, North America were in attendance. EURO-RACECAR is registered as a FIA International Series that contests races in England, France and Spain. Team FJ founded the series in 2009 and manages the event. EURO-RACECAR is the third international series to fall under the NASCAR touring banner – joining the NASCAR Canadian Tire Series and NASCAR Mexico Series – and the first outside of North America.
About Exotics Racing
Located approximately twenty minutes from the Las Vegas Strip, Exotics Racing's private 1.4 mile track includes eleven turns and a 1,800-foot straight. The track was designed by award-winning French stunt driver and racecar driver Romain Thievin and his team. Known for his work as Matt Damon's stunt double in The Bourne Identity, for which he won a Taurus World Stunt Award, Thievin launched Exotics Racing in Las Vegas in 2009. Thievin has worked on more than 150 movies and is a six-time racing champion, as well as the co-host of television show "Fast Club", which airs in France and Belgium. Thievin co-owns Exotics Racing Las Vegas with David Perisset, a former Lehman's investment banker.
Exotics Racing owns over 30 exotic cars, including Ferraris, Lamborghinis, Porsches, as well as an Audi R8, a Mercedes SLS, and an Aston Martin V8 Vantage. The most recent addition to the fleet was a limited edition Lamborghini Aventador LP700-4 in December 2011. Only 4,000 Aventadors were produced. Performance for the $400,000 690hp V12 supercar has been estimated to accelerate from 0-60mph in 2.9 seconds with a top speed around 217mph.
Exotics Racing's private track and adjacent reception facility is located in the Las Vegas Motor Speedway complex at 6925 Speedway Boulevard; Las Vegas Nevada 89115, and is visible from the I-15 freeway. The track is open to the public Tuesday-Sunday, and is available for group and private events, including a Stunt Driving Experience in specially-equipped Mini Coopers. Corporate events are also available for groups of 15 - 400 guests per day.
Exotics Racing has hosted over 40,000 satisfied customers. Guests visit the track from around the world to drive today's most exciting supercars with professional racing instruction on a real race track. The racing school program integrates classroom education, familiarization laps and real-time right seat instruction into one comprehensive, safe and exciting driving experience. Details for the racing school can be found on http://www.exoticsracing.com or by calling (702) 405-7223.