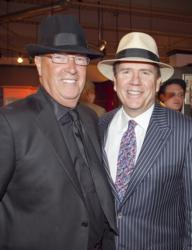 You are the people who built Sub-Zero, Wolf and certainly Clarke.
Milford, MA (PRWEB) April 10, 2012
"It was the 'Bees Knees,'" reported hundreds of architects, kitchen designers and interior designers who attended last week's Fifth Annual Clarke Designer Appreciation Night at the home of New England's exclusive distributor for high performance appliances from Sub-Zero and Wolf. The 1920s Speakeasy theme inspired many guests to arrive in period attire, with flappers, pinstriped suits and top hats in clear view.
Sub-Zero and Wolf President and CEO Jim Bakke flew in from his headquarters in Madison, Wisconsin, to celebrate six top designers around New England for their innovative use of Sub-Zero and Wolf appliances in kitchens and other rooms in the home. The winners were:

First Place Contemporary Kitchen: David Hacin of Hacin + Associates in Boston, MA
First Place Traditional Kitchen: Lindy Weaver of Lindy Weaver Design Associates in Cos Cob, CT and Alicia Orrick of Orrick & Associates, Greenwich, CT
Second Place Contemporary Kitchen: Cameron Snyder and Judith Whalen of Roomscapes in Rockland, MA
Second Place Traditional Kitchen: Jan Gleysteen of Jan Gleysteen Architects, Inc, Wellesley, MA
First Place for use of Sub-Zero and Wolf in a non-kitchen setting (other room): Karen Laskoske of Crown Point Cabinetry, Claremont, NH
Winner of the Clarke People's Choice Award, which was the project that garnered the most votes in Clarke's online gallery from Feb 15-Mar 15, was a kitchen by Claudette Andrew of Westborough Design Center in Westborough, MA
Clarke Business Development Manager Joe Tanguay introduced the Clarke Designer Awards judges to the enthusiastic crowd. They included David Andreozzi of Andreozzi Architects in Barrington, RI; Rachel Levitt Slade, editor at Boston magazine and Boston Home; Certified Master Kitchen and Bath Designer Ellen Cheever of Ellen Cheever & Associates, Wilmington, Delaware; and Vincent Capello of Putnam Kitchens, Cos Cob, CT.
In addition to awarding the Clarke Kitchen Design Awards, kudos went to the top three specifiers of Clarke's products over the past year: Cameron Snyder of Roomscapes in Rockland, MA; Duncan Lomas of Vartanian Custom Cabinets in Palmer, MA and Rosemary Porto of Poggenpohlin Boston, MA. These designers were distinguished for their leadership in integration of Sub-Zero and Wolf high-performance ranges, cooktops, wall ovens, refrigerators, wine storage and more into their vision of what a kitchen can be.
Following a Charleston performance by actors from Enter Stage Left in Hopkinton, MA and a comical black and white silent movie produced to parody how Clarke prepares for these annual Designer Appreciation events, Clarke President and CEO Tom Clarke welcomed the crowd by saying, "You are the people who built Sub-Zero, Wolf and, certainly, Clarke. Without you our company would be nothing. You are the first ones in the marketplace to embrace new products and you are critically important to us. Thank you so much."
Clarke General Manager Sean Clarke introduced new products on the horizon including the Wolf steam oven, Wolf's black glass wall oven and Sub-Zero's new French Door refrigerator. The audience of designers broke into applause when Clarke announced Sub-Zero's interior water and ice dispenser, which removes the traditional "door hole," without sacrificing the homeowner's ability to receive direct delivery of water and ice. Clarke also welcomed guests to browse the new Best ventilation room in the Clarke showroom, which currently features the new Italian-inspired Sorpresa Collection of hoods that defy the traditional concept of what a hood should look like (Sorpresa actually means "surprise" in Italian).
For more information and photos of the event, visit Clarke's Facebook page at http://www.facebook.com/ClarkeApplianceShowrooms. For more information on designer initiatives, visit clarkecorp.com or call Joe Tanguay at 800-842-5275.
About Clarke
This award-winning distributor of appliances from Sub-Zero, Wolf and Asko, provides expansive showroom resource centers in Milford, MA and South Norwalk, CT, where homeowners can learn about and experience these appliances in dramatic kitchen vignettes, without any pressure to purchase. Clarke also offers Clarke Customer Care, a dedicated repair service for their brands, that has earned them "Best in the US" customer satisfaction ratings. They also offer cooking classes and events from Clarke corporate chefs and local celebrity chefs at The Clarke Culinary Center inside their showrooms and recently launched kitchen boutiques and an online store at http://www.savoirfare.com where homeowners can purchase the finest cooking tools. For more information, visit http://www.clarkecorp.com.