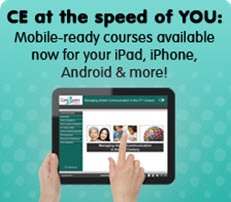 …we are shattering boundaries by vitrualizing our learning to provide training whenever and wherever our clients demand." Matt Casey PhD, Vice President of Content for Care2Learn
Tampa, FL (PRWEB) April 12, 2012
Care2Learn.com, the leader in online continuing education and compliance training for the post-acute healthcare industry, announced recently that all newly developed courses will be mobile-ready and accessible for smartphone and tablet users—an improvement that began earlier this year and is intended to meet the needs of today's mobile audience.
In the past, Care2Learn courses were created mainly using the Adobe® Flash® multimedia platform, which was incompatible with certain mobile devices such as the Apple® iPad. Around the same time Adobe transitioned from Flash to mobile, Care2Learn converted to a more user-friendly format delivering interactivities in HTML 4 format, which was compatible with mobile digital devices.
"While the eLearning industry was undecided about the future of Flash, we moved ahead researching and prototyping options for course development without Flash," says Care2Learn Vice President of Content Matt Casey, PhD. "Now we're creating courses in formats that optimize based on the browser to ensure interaction regardless of whether users have a mouse or a touchscreen device. As our clients are busy providing the best care possible in the post-acute industry we are shattering boundaries by vitrualizing our learning to provide training whenever and wherever our clients demand."
Currently there are six mobile-ready courses available through Care2Learn, and new courses will be made available monthly to help a broad range of healthcare professionals complete required CE and as well as simplify company-wide training for post-acute care organizations. Care2Learn will also begin updating existing courses based on popularity and user feedback.
"Today it's all about being a lifelong learner," says Scott Roan, vice president of IT for Care2Learn. "The student of yesterday was behind a desk, but now it's all about mobile technology—taking your work, your education, your life with you wherever you go and making things easily accessible anytime, anywhere. Providing mobile access to our courses allows us to deliver the maximum flexibility in the most ideal format for our users in order to accommodate their needs and further advance the power of education."
About Care2Learn
Care2Learn sets the standard for excellence in online continuing education and training for the post-acute care industry and holds more than 70 state and national accreditations. Through our award-winning healthcare Learning Management System (LMS) we offer individual courses as well as large-scale corporate training solutions for healthcare organizations featuring customizable and easily accessible online universities with a full range of tracking and reporting features. With an online library exceeding 350 courses authored by more than 150 subject matter experts, Care2Learn serves more than 300,000 healthcare professionals in all 50 states. Founded in 2000 and acquired by eLearning provider VectorLearning in 2007, Care2Learn is headquartered in Tampa, Florida and is the recipient of numerous community honors and industry rewards. For further information visit http://www.Care2Learn.com or http://www.Care2LearnEnterprise.com.