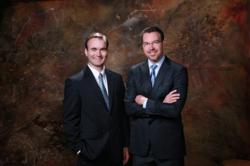 Posts like 'The Empty Will' help to shed light on a very confusing area of Trust and Will law
Riverside, CA (PRWEB) April 11, 2012
In November, 2010, the Riverside based law firm of Albertson & Davidson, LLP launched the first law blog in California focusing on Trust and Will litigation. Since that time, the firm has posted over 100 articles and video on the topic of Trust and Will litigation, with a number of those posts, ten to be exact, catching the attention of LexBlog Network's Best in Law Blogs honors.
Albertson and Davidson's latest offering, entitled "The Empty Will: Why a California Will or Trust May Not Control Your Asset after Death," was named by the LexBlog Network as one of the best blog posts. This is the tenth time that articles posted on the firm's law blog have received this honor.
The LexBlog Network helps to create and support nearly 6,000 authors of legal blogs through the Nation. On any given day, there can be in excess of 160 law-related posts on LexBlog supported legal blogs.
Two of those authors, Keith A. Davidson and Stewart R. Albertson, contribute to the Albertson & Davidson Trust, Estate and Probate Litigation law blog. "We write all of our own articles from beginning to end, that way people see the expertise we have and the view we want to share," says partner Keith A. Davidson. "And posts like 'The Empty Will' help to shed light on a very confusing area of Trust and Will law."
Throughout his career, Mr. Davidson has taught and lectured on Trust and Will issues throughout Southern California. And he currently is an adjunct professor, along with partner Stewart R. Albertson, at Chapman Law School where the pair jointly teach the Wills and Trusts course every year.
Albertson refers to his firm's law blog as "a consumer's best resource for Trust and Will litigation. Of course, there aren't many Trust and Will litigation resources to choose from, but we are trying to change that by making our knowledge available for everyone to read and, hopefully, understand."
According to the people at LexBlog Network, the Albertson and Davidson law blog is getting noticed.
Albertson & Davidson, LLP is a Riverside based law firm with offices in Riverside and Temecula. They focus on California Trust, Estate and Probate litigation issues.