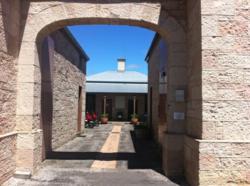 What sealed the win was the fact that this hotel caters to all travelers.
Nicosia, Cyprus (PRWEB) April 12, 2012
Usually, spending time behind bars is reserved for a specific sector of the community - criminals. But what if you could serve jail time on your terms and check-in and out when you wanted and without a criminal record?
Welcome to the world of ex-prison hotels.
Transforming thick walls, barred windows and razor wire into strongholds of hospitality has become a popular phenomenon worldwide as the accommodation industry increasingly looks for points of difference in a competitive market.
Hotel reservation website http://www.booked.net has selected the top five ex-jails people can stay in without first committing a crime. The Booked.net judge's took many factors into account.
Where some ex-prison hotels have stayed true to their roots and offer an experience close to that of being an inmate, others have converted the formerly austere jail walls into a luxury experience.
Based on authenticity, a historic former Australian jail converted to boutique accommodation was selected for the top spot, while the dedication in converting a notorious jail in the US into luxury accommodation saw it take second place.
The list is as follows;
1. The Old Mount Gambier Gaol - Mount Gambier, South Australia, Australia.
Opened as an English-style gaol in 1866, The Old Mount Gambier Gaol closed as a functioning prison in 1995.
It is located about 450km south of the South Australian capital Adelaide, in Mount Gambier. The wider region is famed for attractions such as the Blue Lake and Valley Lake Wildlife Park and caves. It also has many water-filled caves and sinkholes which attract cave divers from around the globe.
However, according to the judges The Old Mt Gambier Gaol deserves its own place among the region's landmarks, because it offers a boutique accommodation experience within the confines of a jail.
It has retained the razor-wire enclosed recreation yards and the seclusion of an antipodean prison and combined those with modern comforts.
However, what sealed the win was the fact that this hotel caters to all travelers, from backpacker-style 10-bed rooms through to double rooms at a maximum price of about US$80.
While all cells' have been refurbished, all the elements that made them a cell have been retained. Each equipped with their own prison-style toilet and hand basin and the heavy cell doors have been retained – albeit with covered peep holes to ensure guest privacy.
If it becomes a little claustrophobic, the door locks have been changed to allow guests to come and go at will.
Non-cell rooms are also available.
2. Liberty Hotel - Boston, Massachusetts, United States.
The contrast between the authenticity of number one on our list and number two couldn't be starker. Converting from the home of some of Boston's most notorious criminals, the 1851 Charles Street Jail, into a luxurious four-star hotel needs to be applauded both for its' audacity and ultimately its' success.
The jail's central atrium was beautifully preserved and forms the reception and hub of life in the hotel. It features the historic catwalks, while jail cells have been preserved in the hotel restaurant and wrought-iron bars remain on the windows.
Turned into a luxurious hotel in 2007, its waterfront location was to prevent the possible escape of prisoners, but nowadays it serves for stunning views of Boston and the water.
Rack rates start at about $286 for a double.
3. Malmaison Oxford Castle - Oxford, United Kingdom.
Would you prefer to stay in A Wing or C Wing? 'Yes…there's a bit of a wow factor here' says Claire Pollock, the hotel's deputy manager.
Doing time at the 'Mal' means choosing a prison cell rather than a room, the Malmaison Oxford Castle bills itself as the "UK's most talked about hotel" and it is possibly a worthy title.
Offering luxury in what is a faithful refurbishment of the original jail infrastructure doesn't prevent you from staying with a full package of modern comforts.
Possibly what makes this place even cooler is the fact that the hotel is the third incarnation of this building.
It was originally built by William the Conqueror in 1071, after the English Civil War in the 17th century it became a prison and was variously added to right until the late 19th century. The prison was closed in 1996 and reshaped into the hotel.
4. Four Seasons Istanbul At Sutanahmet – Istanbul, Turkey.
At number four on the list this hotel earned its place because of the fact where the rest of the shortlist mostly look, unsurprisingly, like jails, this former prison is actually a beautiful building.
Noted as being significance in terms of history of art and architecture, it was built in 1918 and 1919 and was the first jailhouse in the capital of the Ottoman Empire.
The building was designed in Turkish neoclassical style in the beginning of the period called "First National Architecture" with an emphasis on pointed arches, ornate tiles, dramatic domes and towers. Renovated and opened in 1996 as a deluxe hotel of the Toronto-based Four Seasons Hotels and Resorts chain. Its beauty gives few hints to its' past as a jail.
The fact it is near impossible to find a bad review of this hotel also means it ranked highly with Booked.net.
5. Alcatraz Hotel, Kaiserslautern, Germany.
This hotel might have figured higher on our list, but was a subject of debate among the judges at Booked.net for some the "theme-park" like element of this hotel was a selling point, for others it was a turn off.
However if a simulated prison experience is what you are after, this could be the right choice, but with all the privileges of being free.
Opened in 2007, Alcatraz Hotel is housed a former prison from 1867 and offers a total of 57 rooms, some with original beds, lattice bars and pass-throughs for meals in the heavy steel doors.
During its refurbishment, the designers took efforts to retain that true jail-like atmosphere. Visitors can opt to be treated as real prisoners – wear striped pyjamas, have prison breakfast delivered through the pass-through and see glimpses of the world through the barred windows of their 'cell'.