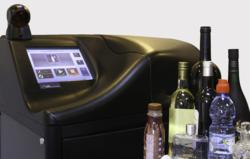 In terms of high sensitivity, low false alarm rate and throughput, our system offers a great improvement over current standards, performing a typical inspection in 3-5 seconds.
Petach Tikva, Israel (PRWEB) April 11, 2012
The Israeli Electro-Optics Company, LDS (Laser Detect Systems Ltd) is launching its new state of the art liquid explosives laser scanner. The LDS 5500D is a desktop laser-based explosive scanner enabling accurate and reliable detection of explosive materials and hazardous compounds in liquid, gel or powder form. The scanner employs advanced laser gated spectroscopy scanning methods, enabling the scanner to achieve a high level of detection, and superior processing speed.
The LDS5500D scans a wide range of standard, or improvised explosive materials in liquid, gel, powder or solid form, including materials contained in sealed plastic or glass bottles, as well as those materials mixed or diluted with other substances attempting to deceive existing sensors. LDS 5500D can also detect traces and residues of explosives on already inspected objects. Other applications of the LDS 5500D include reliable detection of narcotics, and forensic identification of chemicals in liquid, solid, gas and powder form.
The LDS 5500D will be launched at the upcoming Counter Terror Expo 2012 taking place in London, April 25-26. LDS will be presenting jointly with IDO Security Inc, an Israeli company whose "shoes on" walk through metal detector, the Magshoe, is already a fixture for metal detection in shoes and the lower extremities at numerous airport checkpoints worldwide.
The LDS 5500D system successfully completed an exhaustive testing by explosive detection experts, led by the Israel's internal security agency services. The tests included a wide range of inspections evaluating its detection capabilities and sensitivity, detecting and identifying a wide range of explosive materials, including those considered so far undetectable by other means.
"We developed our new laser scanner in cooperation with Israel's security agencies, according to Israeli operational security concepts. Meeting these standards, LDS 5500D offers the best performance among the systems available in the market today" said Eli Venezia, President & Chairman of LDS. "In terms of high sensitivity, low false alarm rate and throughput, our system offers a great improvement over current standards, performing a typical inspection in 3-5 seconds." Venezia added.
"The global market for fast, ultra sensitive and reliable explosive detection scanners is estimated at hundreds of millions of dollars and our new systems position LDS in a leading position in this field." Said Venezia.
At the Counter Terror Expo 2012 LDS will also present the LDS 6500R Remote Scan system, a laser-based explosive detector capable of detecting standard and improvised explosive devices (IED) from a standoff distance. This laser scanner can also detect and identify hazardous materials and chemical warfare agents from tens of meters distance from the suspicious object.
About Laser Detect Systems LDS:
A world-leading developer of stand-off laser-based trace detection technology, Laser Detect Systems (LDS) commercializes ultra-sophisticated, reliable and advanced laser spectrometry-based trace detection technology for homeland security, law enforcement, and industrial application.
Established in 2004, LDS has developed patented, ground-breaking remote trace detection technology using real-time laser spectroscopy, with applications targeting all types of explosives, narcotics, and hazardous materials, in liquid and aerosol form.
LDS corporate and R&D center is located in Petach Tikva, Israel. The company also operates a U.S. based Subsidiary, Laser Detect Systems LLC located in N.J USA.