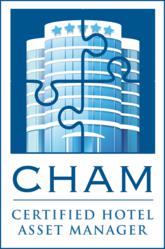 CHAM certification acknowledges the leading professionals in hotel asset management and instills confidence in owners, who have millions–if not billions–of dollars at stake, that their assets are in the hands of a highly-qualified professional
Hollywood, FL (PRWEB) April 11, 2012
The Hospitality Asset Managers Association (HAMA)–the world's leading hotel real estate association–announced today the formation of the Certified Hotel Asset Manager (CHAM) designation. Created by leading executives and renowned industry experts throughout the global hotel real estate community, the CHAM certification aims to establish industry-wide standards of excellence within the profession while further solidifying the institutional/fiduciary role and expectations of a senior asset manager. CHAM designees represent an elite group of senior hospitality professionals whose advanced knowledge in all facets of hotel ownership and operations is further validated by satisfying all CHAM designation requirements.
"Hotels are one of the most labor-intensive and complex forms of real estate," says Rich Musgrove, executive vice president of Hotel Asset Value Enhancement and chair of the CHAM Advisory Panel. "Just as a patient relies on the fact that his or her doctor is a licensed M.D., hotel owners need to know that their fiduciary representative is qualified and possesses the comprehensive skill set required to successfully implement a hotel investment strategy from start to finish."
HAMA members are involved in asset management, acquisition, financing and disposition of hotels and resorts and are directly responsible for making decisions concerning capital investments, renovations, asset repositioning, operational policies and brand and management selection. HAMA consists of more than 200 members across the United States and through international affiliate chapters. Its membership represents more than 3,500 hotels and resorts across every major brand, accounting for more than 775,000 hotel rooms, 250,000 employees, $40 billion in annual revenue and $3 billion in capital expenditures.
"CHAM certification acknowledges the leading professionals in the field of hotel asset management and instills confidence in owners and stakeholders, who have millions–if not billions–of dollars at stake, that their assets are in the hands of a highly-qualified professional," says Cody Bradshaw, senior vice president of Starwood Capital Group and member of the HAMA Board of Directors.
To qualify for CHAM certification, asset managers must have a minimum seven years of lead asset management experience, two letters of recommendation, accept the CHAM Code of Ethics, participate in continuing education (CHAM recertification process every five years) and achieve a passing score on the CHAM exam, which consists of six sections covering all facets of hotel asset management.
"The roles and responsibilities of hospitality asset managers have dramatically evolved over the past several decades and interest in the profession is at an all-time high," says Rob Kline, CEO and co-founder of Chartres Lodging Group, LLC and chair of the CHAM Endorsement Committee. "Asset management is now widely-considered to be a core part of any hotel investment strategy. Thus, it was time to clearly define the spectrum of skills and duties of a senior hotel asset manager."
The CHAM Advisory Panel and Endorsement Committee, along with HAMA's Board of Directors, are made up of the world's most prominent experts from across the global hotel real estate community from within the hospitality industry and academia, including:
CHAM Advisory Panel

Richard Musgrove (Chair), Executive Vice President, Hotel Asset Value Enhancement
Craig Mason, Senior Vice President of Asset Management, Host Hotels & Resorts
Robert Springer, Senior Vice President - Acquisitions, Sunstone Hotel Investors
Michelle Russo, President/Founder, Hotel Asset Value Enhancement
Dave Johnstone, Managing Principal and Chief Investment Officer - Hotels, Miller Global
Chad Crandell, President and Co -founder, Capital Hotel Management
Dr. A.J. Singh, Associate Professor, International Lodging Finance and Real Estate, Michigan State University
Dr. Jan deRoos, HVS Professor of Hotel Finance and Real Estate and Director of the Center for Real Estate and Finance, Cornell University School of Hotel Administration
Dr. Barry Bloom, Associate Professor of the Practice in the School of Hospitality Administration, Boston University
CHAM Endorsement Committee
Robert Kline (Chair), Chief Executive Officer and Co-Founder, Chartres Lodging Group, LLC
Denise Coll, President, North America Division, Starwood Hotels & Resorts Worldwide, Inc.
Charles Henry, President, Hotel Capital Advisors, Inc.
John Arabia, Chief Financial Officer & Executive Vice President of Corporate Strategy, Sunstone Hotel Investors
David Hodes, Managing Partner, Hodes Weill & Associates
Kevin Fitzpatrick, Managing Director, Spring Bay Property Company
Joel Eisemann, CDO & EVP, InterContinental Hotels Group
Minaz Abji, Executive Vice President of Asset Management, Host Hotels & Resorts
HAMA Board of Directors
Carroll Warfield (President), Managing Director, Thayer Lodging Group
Michael P. Doyle (VP), Executive Vice President, Capital Hotel Management
Ruby Huang, Vice President, Och Ziff Real Estate
Dave Hogin, Vice President, Strategic Hotels & Resorts
Cody Bradshaw, Senior Vice President, Starwood Capital Group
Howard B. Isaacson, Senior Vice President, RLJ Development, LLC
Wayne Williams (Past President), Partner, Warnick + Company West, LLC
Steven Nicholas, Principal & Executive Vice President, Noble Investment Group
Heather Castellari Turner (Past President), Director, Broadreach Capital Partners
Michael Sullivan, Managing Director, DLA LLC
Melissa Silvers, Principal, SCS Hotels, Inc.
For more information visit http://www.hamagroup.org
About the Hospitality Asset Managers Association
Founded in 1991, HAMA is the world's leading hotel association for professionals responsible for proactively increasing asset values on behalf of hotel owners. Its mission is the enhancement of hospitality asset managers through education, advancement of the profession, and serving as the collective industry voice of hospitality ownership. Members are involved in asset management, acquisition, financing and disposition of hotels and resorts, and are directly responsible for making decisions concerning capital investments, renovations, asset repositioning, operational policies and franchise selections.
http://www.hamagroup.org