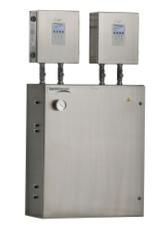 Houston, TX (PRWEB) April 12, 2012
SpectraSensors will exhibit at the Acadiana Flow Measurement Society (AFMS) Show in Lafayette, Louisiana on April 23 – 25, 2012. The show provides a forum for the exchange of measurement knowledge, with numerous classes and over 50 exhibits.
Ray Adcock, Director of Customer Service and Director of Business Development, Natural Gas at SpectraSensors, is presenting a paper at AFMS on Tuesday, April 24 at 1:15 pm. Adcock will discuss measuring H2O, H2S and CO2 in natural gas using TDL analyzers.
SpectraSensors will display their 3-Pack H2S analyzer system, along with their Oxygen, Hydrocarbon Dewpoint and Moisture analyzers. Attendees can visit SpectraSensors' booth #4 to learn more about their solutions for natural gas quality measurements.
More information: http://www.spectrasensors.com
AFMS: http://www.afms.org
About SpectraSensors, Inc.
SpectraSensors is a leading manufacturer of optically based moisture analyzers and H2S analyzers for analytical process markets. SpectraSensors uses Tunable Diode Lasers Absorption Spectroscopy (TDLAS) in an array of products such as Ambient Air Monitoring Analyzers, Moisture Analyzers (Hygrometers) and Gas Analyzers for Natural Gas Pipelines and Processors, Petrochemical Refineries and Chemical Companies.
SpectraSensors Gas Analyzers measure: Moisture (H2O), Carbon Dioxide (CO2), Hydrogen Sulfide (H2S), Oxygen (O2), Hydrocarbon Dewpoint and more.
###