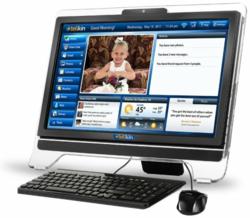 Fairfax, VA (PRWEB) April 11, 2012
Technology Expert Scott Steinberg recently spoke with NewsWatch about some of the best technology products of 2012. One of the biggest themes this year in the technology industry are products that make lives easier for consumers with average technological skills. One product that caught Scott's eye as being easy to use for anyone with average to no technological skills was the Telikin computer.
Telikin is designed to be an easy to use home computer for seniors, novice computer users, and anyone frustrated with typical PCs. There are now 100 million people over the age of 50 in the US and 30% of those over 65 are still not connected to the internet. Telikin was designed to address this market. Telikin easily fits on the kitchen counter providing easy to use one-touch access to information for everything from the weather, news, email, Calendar, Contacts, internet and more. The whole computer is built into one chassis to reduce wiring and makes setup and connection easy and simple.
The Menu bar of the Telikin Computer on the left side is always available that way a user will never get lost in the complexities of the computer and will always be able to return to any program or page they desire with just a simple click. The Telikin Touch (18") computer has a Dual Core Intel Processor, 2 GB RAM, 320 GB Hard Drive, HP Printer Support, Web Cam and even a DVD player, while the Telikin Elite (20") has an AMD Dual Core processor and a 500 GB Hard Drive. It also comes with a word Processor, Spreadsheets, Video Chat, Email, Photo Manager, Facebook, Calendar and more all built in. Just connect to the internet and it is ready to go. Telikin is also virus free, as it is built on the Linux system, so no more worrying about a virus destroying everything on the computer.
The Telikin computer is built in both an 18 inch and 20 inch computer. It is an easy to use computer that gives almost everyone the ability to have a personal computer that they can rely on and feel comfortable using. For more information, or to purchase, head to Telikin.com. The Telikin Computer can also be purchased through online retailers such as Amazon, Radio Shack, Sears, and Best Buy.
Hailed as a top voice for today's high-tech generation by dozens of publications from USA Today to Forbes and NPR, Scott Steinberg has covered the field for 400+ outlets from The New York Times to Entertainment Weekly and Wired. A frequent on-air technology analyst for major TV networks including ABC, CBS, FOX, NBC and CNN, Scott's also a bestselling author and creator of the The Modern Parent's Guide and Business Expert's Guidebook series. More than one billion people have turned to his columns and reports for insight into all things high-tech. He is the CEO of TechSavvy Global.
NewsWatch is a weekly 30-minute consumer oriented television show that airs nationwide. NewsWatch regularly feature top celebrities, health tips, technology products, medical breakthroughs and entertainment news on the show. The show airs in 190 markets nationwide as well as all of the top 20 broadcast markets in the country. For more information, head to newswatchtv.com