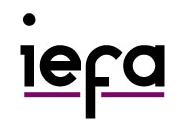 IEFA.org has helped countless students pursue an international education over the past 14 years.
Neptune Beach, Florida (PRWEB) April 11, 2012
Envisage International Corporation has relaunched IEFA.org, the most comprehensive international education financial aid resource available anywhere. Since 1998, IEFA has always had the most complete database of scholarships for international education, but now features a fresh look, more functionality in its scholarship search, and additional financial aid and funding resources for international students.
The core of the site remains the listings of scholarships and grants for study outside of one's home country. The scholarship and grant listings have been updated and will be continuously monitored to provide accurate, up-to-date information. Additionally, users have advanced search options to find awards geared to their school, interest, or study destination and origin. Along with these changes, IEFA.org has also improved the overall user experience with its cleaner interface and navigation.
To complement the scholarship search, users of the site have been anxious for information about international student and study abroad loans. With the website redesign, IEFA.org offers a comparison tool that allows students to find loans based on their citizenship and school. This loan comparison tool, designed specifically for international students, allows users to compare basic lender terms and apply right online.
Finally, to enhance the depth of content and level of interactivity on IEFA.org, the popular International Financial Aid Blog has been moved to its new home at blog.IEFA.org. With regular posts on relevant topics, users can keep up to date with the changing financial climate for international education, important scholarship deadlines and information, opportunities and restrictions on working while studying internationally, and other topics related to funding international study. Students and advisors can post their comments and questions with immediate feedback from the experts.
Keith Clausen, President of Envisage International Corporation, commented, "IEFA.org has helped countless students pursue an international education over the past 14 years. We wanted to ensure that it remains the most comprehensive, useful and targeted resource for international education financial aid and funding. With the redesign of the site and the addition of the loan comparison tool and blog, we think we have accomplished that objective."
The updates to IEFA.org come at an ideal time. International experience is increasingly well regarded by employers at a time when education costs are on the rise. According to the 2011 Open Doors Report, international student enrollment increased 5.7% and US students studying abroad increased 3.9% over the previous year. In addition to the growing cost of education, students studying overseas also have to account for their travel and living expenses. This makes financial aid an increasingly hot topic for international, study abroad, and foreign enrolled students.
"Access to financial aid and other sources of funding remains the biggest obstacle to the continued growth of international education – both for international students coming to the US, and for US students going abroad. We feel a strong commitment to keep this important resource up to date, relevant and free for the next generation of international students." added Mr. Clausen.
For more information, contact Jennifer Frankel at jfrankel(at)EnvisageInternational(dot)com or +1-904-247-1387.
About IEFA.org: International Education Financial Aid is owned and operated by Envisage International Corporation and headquartered in Neptune Beach, Florida. As a NAFSA Global Partner and with an A+ Reliability Rating from the Better Business Bureau, Envisage International is committed to helping students pursue their dream of international education. Online as a free resource since 1998, IEFA.org is a critical part of the international education process for thousands of students each year.