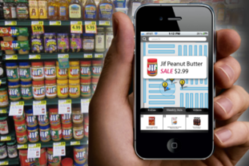 Bellevue, WA (PRWEB) April 11, 2012
Point Inside announced today that it has launched nSide, the first private ad network that merges indoor shopper- and product-location technologies with shopper intent and interest data, allowing retailers to send hyper-targeted advertising messages to in-store customers. Offered as a part of the company's existing Customer Engagement Platform, the private ad network is available to retailers for customized integration into their own mobile applications.
The network is designed to inform customers of deals, discounts and coupons based on shopping history and products they have recently added to their electronic shopping list, and recommends additional relevant products. The content—which could also include anything from how-to videos and recipes to style suggestions and product reviews—is delivered when the customer builds an electronic shopping list or stands in a location near those products in the store.
"We're giving retailers and brands the ability to provide ads that are more relevant and higher quality than ever before, and to deliver them at key decision-making points during the purchasing process," said Point Inside CEO Josh Marti. "They will have complete control over the way the message is delivered, who it's delivered to, and when." Marti noted that the added dimension of context allows retailers, brands and manufacturers to design ads that are more customized and editorial in nature, making them more useful and interesting to consumers: "The content should be seamlessly integrated into the shopping experience."
Market data show there is significant growth opportunity for retailers, brands and manufacturers to increase sales if they can maintain a meaningful dialogue with customers as they make real-time purchasing decisions. According to a study by the Grocery Manufacturers Association and Deloitte Consulting, 70% of all purchase decisions are made in the store itself, and 68% of those purchases are impulse buys. At the same time, consumers are increasingly using mobile devices and applications to find, evaluate and purchase consumer products. These trends will fuel the location-based services market, which is expected to be worth $10 billion by 2016, when 50% of all ad spending is expected to be driven by location-enhanced services, according to Strategy Analytics.
About Point Inside
Point Inside is a mobile Customer Engagement Platform (CEP) that uniquely uses multiple indoor location technologies to provide brick-and-mortar retailers with micro-location marketing and private ad network capabilities. The platform, offered through retailers' branded mobile applications and channels, helps retailers, brands and manufacturers increase revenues and achieve more measurable sales results by giving customers a real-time, in-store retailer connection that saves them time and money. Privately-held Point Inside is based in Bellevue, WA. More information can be found at http://www.pointinside.com/company/about-us/.